Shipbreaking #67
April-May-June 2022
62 pages, 98 sources, 231 photos
This is the quarter of paradoxes, the lowest one in tonnage and units in 14 years and one of the highest in purchase price, 700 US$ per ton in April.
Out of 111 vessels, 88 were scrapped in the Indian subcontinent and Turkey. 9 vessels of up to 90 m in length are being scrapped in approved yards in Europe, Denmark and Norway (the Rio Tagus was scrapped in July). The European yards are only breaking small ships.
4 cruise liners are to be broken up, including the elegant Black Watch ex-Royal Viking Star. The Salamis Filoxenia travelled 6,500 km flying the Palau flag to be scrapped in Pakistan.
The Black sea and the sea of Azov are slowly getting rid of a fleet of substandard ships. The Ukrainian-flagged Lizori is being scrapped in Turkey (cf. p. 28). Her Russian-flagged sistership Sormovskiy-40 was beached for demolition in Alang (cf. p. 29).
The United States of America is setting a bad example. The Coastal Venture, a general cargo carrier, was scuttled off the coast of South Carolina, near to military junk, chicken coops, old Maersk containers and New York subway cars (cf. p. 26-27).
Brokers and pseudo-shipowners from the Persian Gulf play poker with the scrap metal from old ships to be scrapped and make huge profits (cf. the Splendour Sapphire, a chemical tanker p. 43, and the Hai Long, an oil tanker p. 34).
The wine tanker Pic Saint Loup which contributed to the great moments of Brest cellars is being broken up in Aliaga (Turkey). For her last voyage flying the flag of Togo, she was named Loup (cf. p. 9-10 et 43).
The ex-ore carrier Jean Schneider built in 1959 in Dunkirk by Ateliers et Chantiers de France is awaiting scrapping in India. She was sold to the Danish shipowner Lauritzen in 1973 and converted to drilling ship (cf. p. 50).
The END (p. 59-62) is dedicated to the chemical tanker Stolt Groenland which suffered in September 2019 in Ulsan port, South Korea the terrifying explosion of a tank loaded with styrene monomer. The chemical tanker is considered a total loss in the Equasis database. Though, she seems to stand at the crossroads of routes to scrapyard and ship repair yard in Busan port. This is why The END is called as an exception The END ?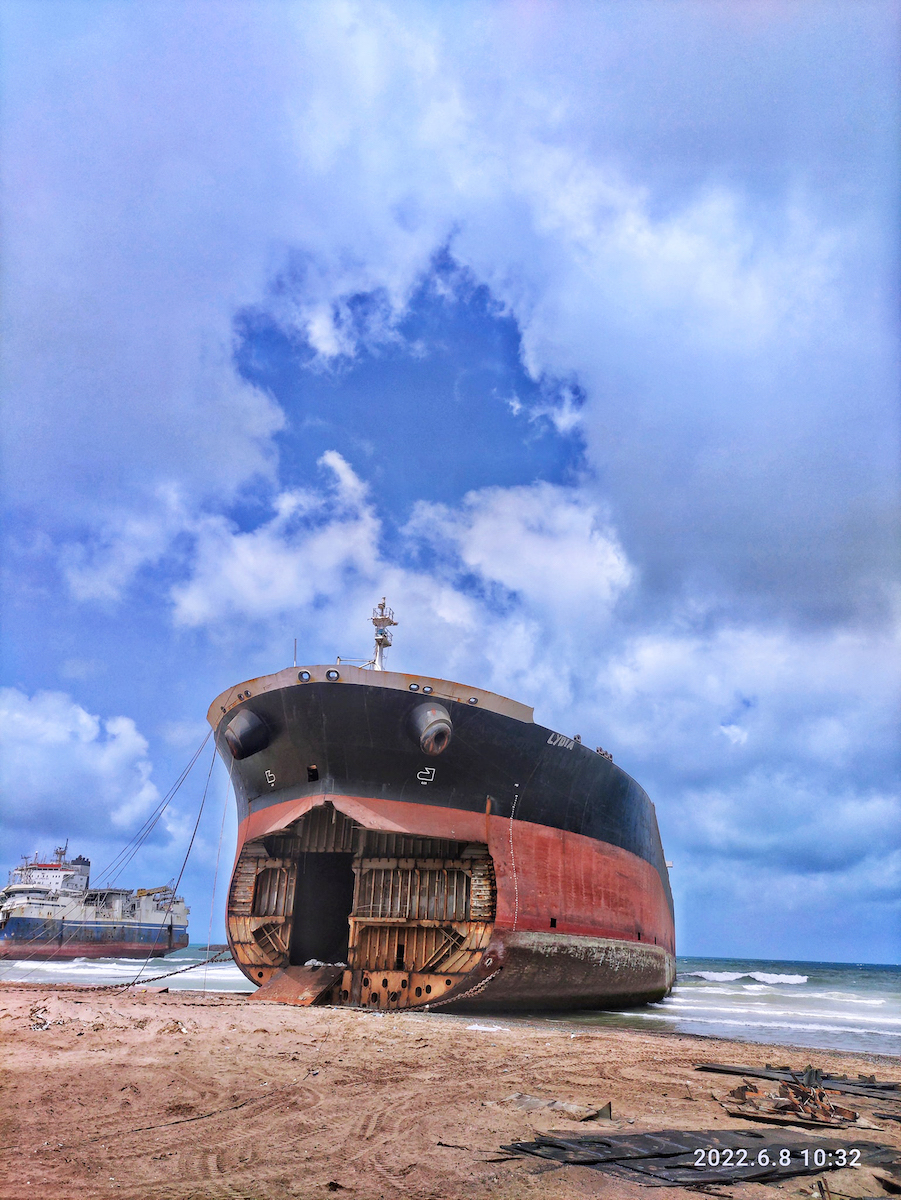 Nordic Passat, renamed Lydia on Gadani beach, June 2022.
© Gadani Ship Breaking Yard
Shipbreaking #67
https://robindesbois.org/wp-content/uploads/shipbreaking67.pdf

Imprimer cet article