"On the Trail" n°38,
the defaunation bulletin
1584 events with references, checked, analysed, commented and strengthened between October 1 and December 31, 2022
397 iconographic documents 12 maps and historical archives
(pdf, 256 pages – 8.9 Mo)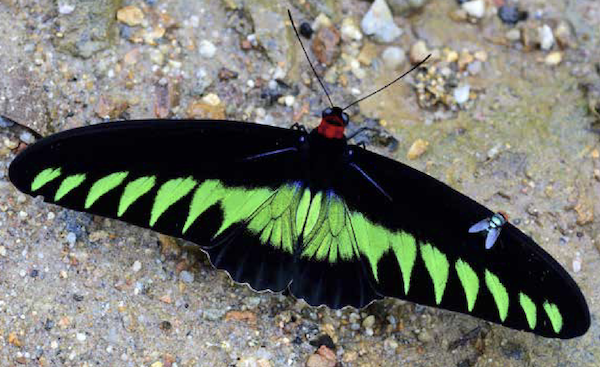 Trogonoptera brookiana. Photo 葉烽
Donkey trafficking between Israel and Egypt via Palestine has been partly halted thanks to a furtive agreement between an animal lover in Gaza and an animal lover in Netanya (Israel). In Egypt, the donkey skin, hooves and penises are cut before being shipped to China for the ejiao market and for so-called food and sex supplements.
"One can measure the greatness and the moral progress of a nation by looking at how it treats it's animals" (tweet from the Indian Railway Protection Force on October 3, 2022 as part of Operation Wilep against wildlife smuggling on passenger trains).
More and more poisoning
The poisons most commonly used are carbofuran, strychnine and slug pellets containing metaldehyde: a tiger in India, a tiger in Nepal, 3 leopards in India, 18 painted dogs in Malawi, an American black bear in the United States (Michigan), 35 white-backed vultures and 5 tawny eagles in South Africa, steppe eagles in Kazakhstan, a white-tailed eagle in Ireland, 5 peregrine falcons in Germany, red kites in Spain, 3 vultures in Greece, a common buzzard and a red kite in the United Kingdom, 5 white-tailed eagles (as well as 2 foxes and 3 dogs) in Serbia. An attempt to poison wolves in Germany (Bavaria) resulted in the deaths of 6 dogs and 2 cats. Hedgehogs are particularly at risk. The baits are impregnated with concentrated agricultural poisons. A gamekeeper was sentenced to 200 hours' community service and a 1,320 US$ fine in the United Kingdom for poisoning 4 common buzzards, and a pigeon farmer was given a 3-year suspended prison sentence for poisoning 2 red kites, 2 foxes and 3 weasels in the Czech Republic.
In this country, 2 Chesapeake Bay retrievers, Victory and Irbis, and in Italy, more than 20 Belgian shepherds and labradors, are specialists in detecting poisoned bait. They are also responsible for detecting bait in the truffle woods of Piedmont. Some truffle gatherers seek to eliminate competitors' dogs. Other dogs, such as Inspector Beagle in Thailand and Carlo in Hungary, spotted smoked bat meat in suitcases and the corpse of a cinereous vulture shot by a poacher. In India, Topsi, another sniffing dog, "marked" the corpse of an electrocuted lion and buried lion ashes and bones. In Africa, many K9 brigades are involved in apprehending poachers of pangolins, rhinos and other mammals. The name K9 comes from the name of the robot dog in the 1970s science fiction series "Doctor Who".
More and more electrocutions
The Indian subcontinent is hit. Power lines are hijacked. 13 elephants in India, one in Nepal, one in Bangladesh. Fish and marine mammals are not spared: a Ganges river dolphin in Pakistan, salmonids in Russia. The scourge is spreading to Europe: 1,600 kg of fish were caught using electricity in Northern Italy and smuggled for sale to Eastern Europe.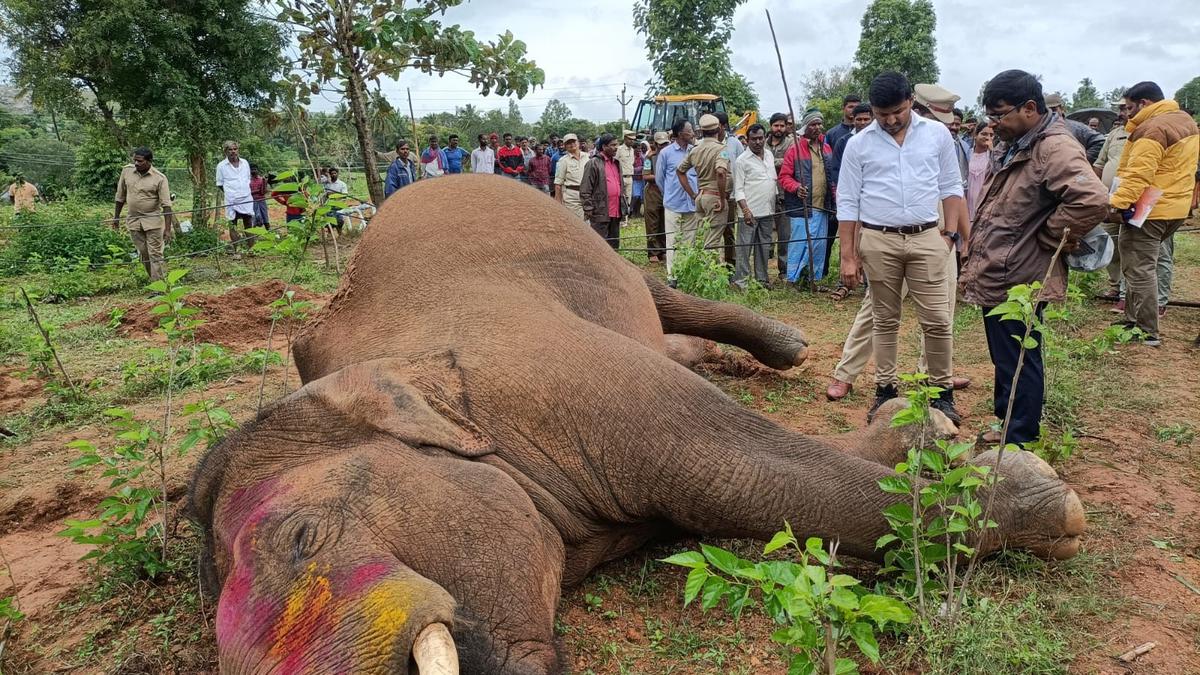 © The Hindu
More and more reports of fishing with explosives
Six interventions by marine patrols in Indonesia, 3 in Malaysia, 2 in the Philippines, 2 in Viet Nam. Ammonium nitrate explosive gels used in mines are diverted from their intended use. Major trafficking between India and Sri Lanka. The authorities are simultaneously fighting fish poaching and terrorism.
More and more mixed trafficking in wildlife and narcotics
Elephant ivory and methamphetamine in South Africa, American black bear and marijuana in the United States, common marmoset and cannabis in France, Hermann's tortoise, amphetamine and marijuana in Serbia, abalone and mandrax in South Africa…
Targeting by customs officers
In Hong Kong, traffickers had the bad idea of declaring on import that 8 maritime containers contained plastic pellets and 4 others contained household appliances. As China is the main producer, customs officials were dubious. What was actually inside were 75,000 classical music vinyl records, 15,000 bottles of alcohol and 22 tonnes of sea cucumbers, swim bladders, manta ray gills and dried seahorses.
Traffickers' tricks
– Crocodile oil in a parcel declared to contain "massage oil".
– Beetles in packages declared to contain "plastic toys", "stationery supplies", "snacks", "sweets" or "make-up remover cottons".
– Scorpions in packages declared to contain "sweets".
– A shark's tooth in a shipment declared to contain "lithium-ion batteries".
– Still carved ivories in milk powder tins and ivory beads inside fishing rods.
– A baby spider monkey in a wooden box declared to contain "beer".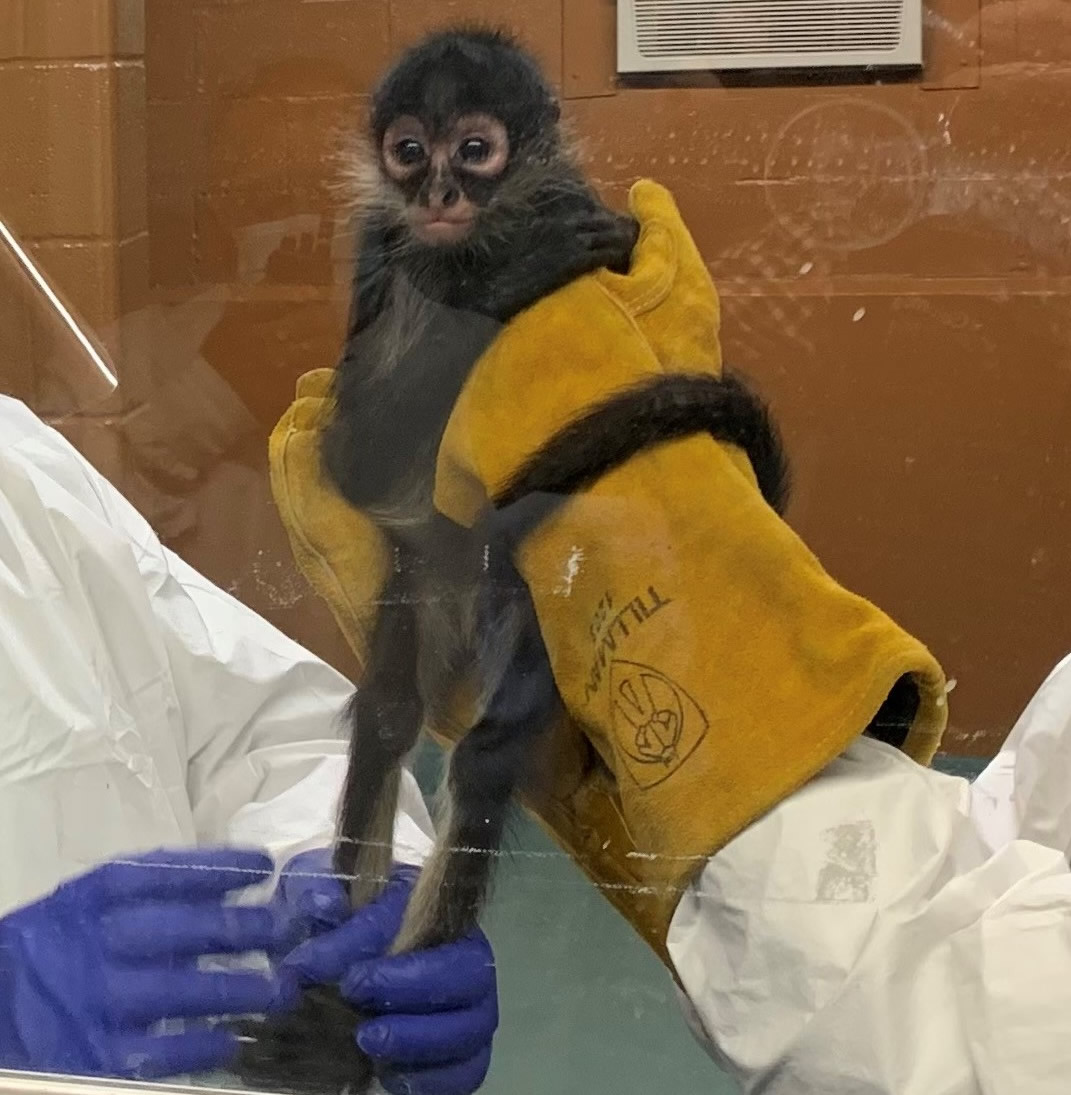 © US Immigration and Customs Enforcement
The mystery of the Red Dragon Made in France jars filled with cobra or presumed cobra venom persists. The seizures date back to "On the Trail" n°9 published in July 2015. They are regular in subsequent issues. There are 2 in this issue 38. The supply chain is spreading to Bangladesh, India and China via Nepal. Some articles in the regional press do not cast doubt on the French origin.
© Bengal Forest Department
Not to be missed
– 2 monkey trafficking operations for animal experimentation, "On the back of the grey-handed night monkeys" and "The tribulations of a monkey dealer" between Cambodia and the United States.
– "Tribute to the steppe eagle" (Kazakhstan).
– "Bordeaux, exotic brothel" (France).
– The beaks of Dalmatian pelicans to groom sweaty horses (Mongolia).
– The fiasco of introducing cheetahs into India from Namibia and South Africa.
– The smuggling in India of exotic wild animals.
– Escorted convoy for 19 yellow cardinals seized in Argentina and released in confidential areas. The value of one specimen is reaching 860 US$.
– In South Africa, rhino poaching is declining in the Kruger Park but is exploding in KwaZulu-Natal.
Prices
Today, the quotation of one kilo of mammoth ivory on the black market is higher than the quotation of one kilo of elephant ivory (170 US$/kg in Zimbabwe and Kenya for elephant ivory, compared with 262 US$/kg for mammoth ivory in Russia).
A live tiger (7 kg) seized in Thailand and smuggled in from Laos is valued at around 40,000 US$.
Sea cucumbers in Italy and Greece are on the rise: 1,400 and 2,690 US/kg.
The sperm whale is now the species with the highest added value. A kilo of teeth sells for 16,200 US$ on the black market in China and a kilo of ambergris is quoted at around 121,000 US$ in India.
"On the Trail" n°38
https://robindesbois.org/wp-content/uploads/ON_THE_TRAIL_38.pdf
"On The Trail" has been carried out by the NGO Robin des Bois since 2013 with the support of the Brigitte Bardot Foundation, the Franz Weber Foundation and the French Ministry of Ecological Transition. "On the Trail" gets sponsorship from the Séché Environnement group.

Imprimer cet article