During their stay in Qatar, the PSG (Paris Saint-Germain) French soccer team took part in several events organized by the local tourist agency. That is how Zlatan Ibrahimovic ended up in the audience watching a high flight falconry demonstration and posed for a photo next to a wild falcon. Falconry is a one of Qatar's pride specialties. This activity is cause of disappearing of several falcon species and other birds of prey.
In Russia, Pakistan, India, peregrine falcons and saker falcons are captured in nets and sold at the price of gold to Arab falconers. This trafficking is growing. Wild falcons are considered to be more resistant and better virtuoso in their hunting efforts than those raised in captivity. After the taming stage, falcons are mainly used to hunt houbara bustards, a desert bird now threatened with extinction in the wild and listed under Appendix I of the CITES international treaty. Several royal families of the Arab-Persian Gulf Emirates and the Qataris are dedicated falconry advocates. They don't hesitate to practice their skills in Algeria and Tunisia over large landscapes graciously opened to them by local authorities. To feed the falcons, they hunt 4 desert gazelle species protected by CITES and national laws. Before the Qatari hunting troupes arrive on site, numbers of houbara bustards are released resembling what is done in France with pheasants before the opening of the rifle hunting season.
It is despicable for a prestigious French soccer team to participate in promoting such activities, historical yet today irresponsible. Robin des Bois will cover more extensively the damages that falconry inflicts on biodiversity in « On the Trail» n°3, the quarterly on trafficking of endangered animal species, to be published at the end of the month.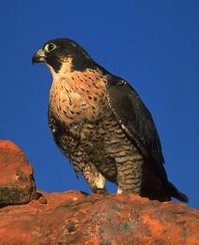 [1]
Falco peregrinus (c) Manzanita Project