Solomon Trader (formerly known as the Ocean Amber, the Noble Union, the Nueva Union, the Doric Chariot). IMO 9075670. Measures 225m in length. 73,592 deadweight tons. Hong Kong flag. Classification society Nippon Kaiji Kyokai. Built in 1994 in Ulsan, South Korea by Hyundai. Owned by King Trader Ltd. (Hong Kong, China). Detained in 2005 in Hay Point, Australia and in 2012 in Paradip, India. The Solomon Trader brings bad luck. On July 29,2002, as the Greek flagged Doric Chariot, she left Hay Point (Queensland, Australia) with her coal cargo and ran ground on a coral reef in the Great Barrier Reef near Piper Island. Australian authorities reported no casualties or pollution. On February 20, 2013, as the Hong Kong flagged Ocean Amber, she was anchored at Richards Bay, South Africa. The port anchor windlass motor exploded, which killed an Indian sailor.
The Solomon Trader had arrived in late January 2019 to Kangava Bay on Rennel Island, which is part of the Salomon Islands, an archipelago that lies 1000 km east of Papua New Guinea, to load up with bauxite. Cyclones occur frequently in the archipelago. On the night of February 4 to 5, 2019, the bulk freighter dragged her anchors and ran ground on a reef. Her hull was cracked. One hundred tons of fuel spread all throughout the sea in the first few days and polluted the coastline. Resolve Salvage is tasked with the rescue operations, and in particular, the pumping of 600 t of fuel remaining on board, but the operations are still going on in the end of April. Oil continues to leak into the sea. The 2000 inhabitants of the island are divided into four villages, and for the most part they live off of hunting, fishing, and food-producing.
Rennel is a coral atoll that measures 85 km in length and 15 km in width. East Rennel, the southern third of the island, has been classified as UNESCO World Heritage since 1998. The classified site includes Lake Tegano, a dense region of forest, and a marine area. Exploitation of ore and forests are suspended here but continues to the west. The potential negative effects of this industry were supposedly known. It would have been necessary to add the risks of transport.
The wreck of Kea Trader ran ground on July 12, 2017 on a coral reef off the coast of New Caledonia and is still dislocating on the spot of the accident. Will the international community abandon the Solomon Trader to an identical destiny? For the moment, the villagers of Kangava continue to collect oil with shovels, without masks and with bare chests to protect the World Heritage site.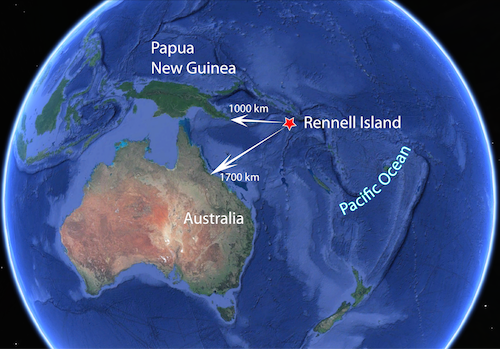 Imprimer cet article