66th IWC – International Whaling Commission
Portoroz – Slovenia
24-28 October 2016
Ominous :
October 27, 2016. Daly, California. The male blue whale with skull fractures runs aground at the foot of the cliffs. 65 ft in length.
© The Chronicle
October 26, 2016. Sao Paulo, Brazil : attempt to save a spotted dolphin grounded on the beach.
DR
October 26, 2016. Alagoas, Brazil : one more Guiana dolphin stranded. A very rare coastal and estuarine species, Appendix I CITES.
DR
October 26, 2016. Santa Catarina : one beached humpback whale. 75 since the 1st of January along the Brazilian coast. 8-9 m, around 5 years
© julio cesar vicente
October 22, 2016. Madagascar : stranded of a whale calf. Species unknown. Cut up by villagers to eat the meat. Remains burnt.
October 22, 2016. Hawaï : one female and pregnant dwarf sperm whale (2.10 m long) found dead on a beach.
Kogia sima © Jules Kombi Kambale
October 20, 2016. A dead fin whale stranded in UK has been buried in the sand. If dumped at sea, he would have enriched the sea for 100 years
© Penny Clarke
October 20, Venezuela : « Los depredadores » catch Guiana dolphins in the Maracaibo Lake and sell the meat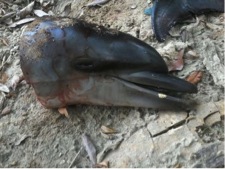 © El Carabobeño
October 18-19, 2016 : 2 babies sperm whales, 5.80 and 7 m long, stranded along Florida and Louisiana coast.
© KPLC
October. 2016. Normandy, France : beaked whale stranded in front of le Mont Saint-Michel. Highly vulnerable to acoustic disturbances.
© La Manche Libre
Mid-October 2016 : three sperm whales stranded along Kenya and Tanzania within 15 days.
DR
See «On the Trail» special issue published for the 66th IWC [1]