Grande America – Press release #11
After the Grande America in the Bay of Biscay on March 10, 2019, there is a new alert about a ship from Grimaldi Lines, this time in the Mediterranean.
The Grande Europa (IMO # 9138381), built in 1998 in Castellammare (Italy), 181 m in length, is on fire 20 miles south of the Balearics. She left Salerno (Italy) bound for Valencia before heading for northern Europe. In latest news, part of the crew was evacuated. Rescue boats and firefighting boats are trying to control the disaster.
The Grande Europa would have been loaded with vehicles.
To be continued.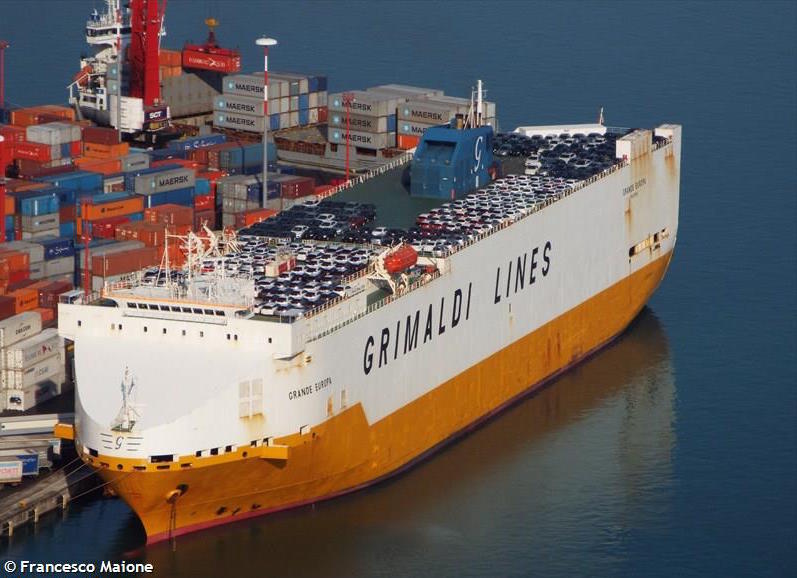 Grande Europa, May 6, 2014, Salerno (Italy). © Francesco Maione
Updated May 16, 2019 : Once the fire was considered to be under control on the afternoon of May 15, the Grande Europa was towed by the Marta Mata. She was docked at the port of Palma de Mallorca at 4:55 in the morning on May 16. 
Updated May 17, 2019 :  According to Grimaldi Group's press release, the Grande Europa endured two successive fires on the night of May 15. The first started in deck 3 at 12:45 and was extinguished by the crew. The second began at 4:00 am in deck 8 and spread to deck 9. According to the ship-owner, the Grande Europa was transporting 1687 vehicles, including cars, vans, lorries, and roadwork materials that were "new for the majority" and 46 containers "principally of food products." The two fires had occurred in new vehicles. 
Updated May 21, 2019 : The Grande Europa left Palma's port in a hurry on the evening of May 20, towed by the Supernacho  (IMO 9289269), which belongs to the Spanish company Boluda. Grimaldi`s report certifies that the fire is extinguished and there is no risk of hydrocarbon discharge, and the plan for towing was accepted by the authorities at the Majorcan port. The convoy is headed for Valencia at a speed of 4 knots. It is expected on Wednesday.

Imprimer cet article