Update, January 10, 2017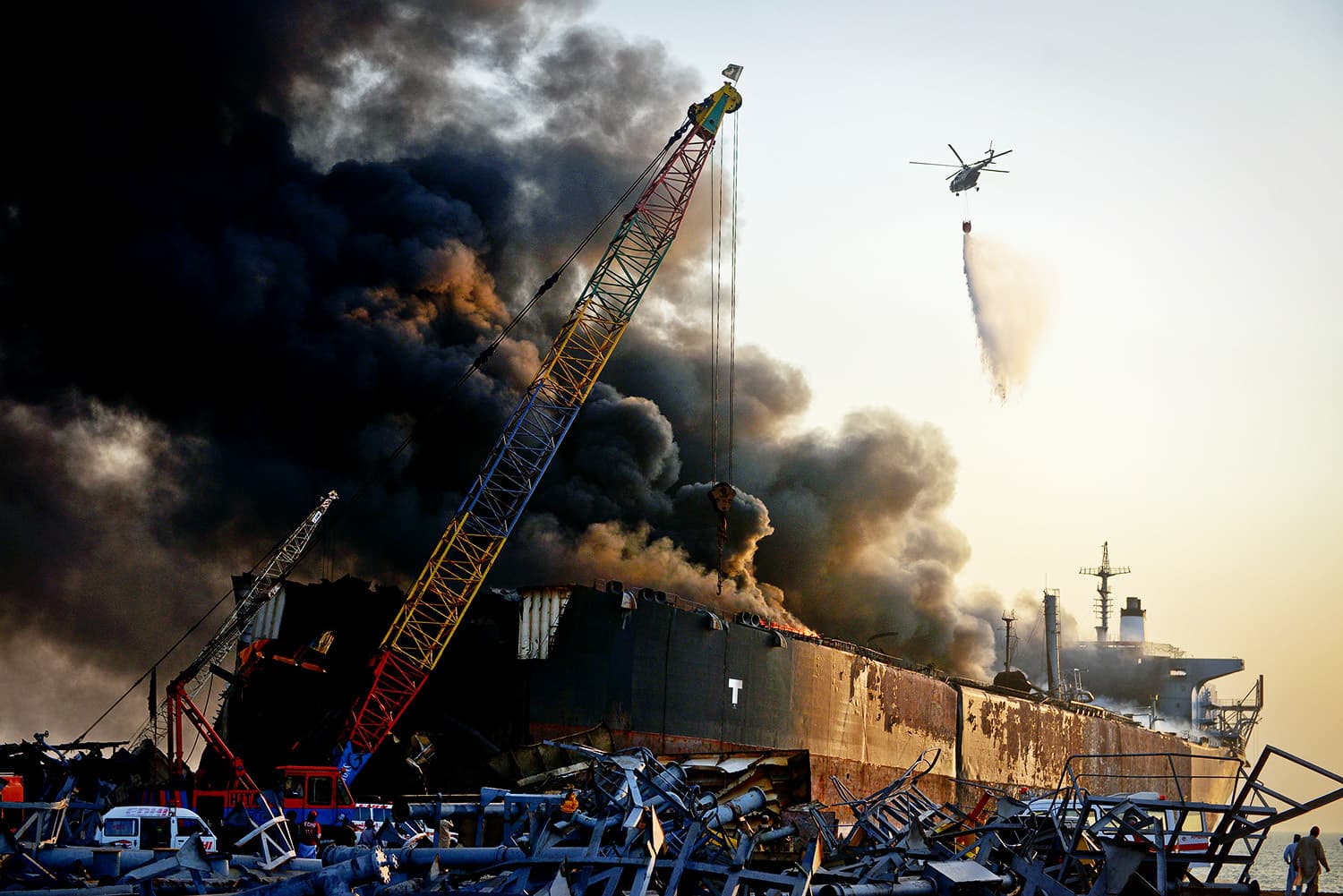 Gadani, Pakistan, November 1, 2016
© Dawn
Death is prowling in the shipscrapping yards
2016 has been branded with November 1st drama at Gadani, Pakistan, when the explosion of the FPSO (Floating Production Storage and offloading) tanker Aces ex-Federal 1 caused 28 losses of life, 4 missing and tens of badly wounded and burnt. The ex ship was at the time holding several thousands tons of residual bunker oil and a number of gas cylinders. Families in mourning will receive each 1.5 million rupees, i.e. 14, 000 US$.
Anywhere else, fires aboard during scrapping are spilling toxic fumes in the atmosphere while losses of life by falls of metal pieces, electric shocks, explosions and gas inhalations are common.
On May 29 at Chittagong, Bangladesh, two workers were killed and three wounded by the fall of an iron scrap. On August 12 at Brest, France, the supervisor of the scrapping operations on the Captain Tsarev was deadly gassed by the CO2 of the ship's firefighting system. On August 21 at Keelung, Taiwan, firemen were able only after several hours to put out the fire aboard the TS Taipei wreck that was being dismantled within China Shipbuilding Corporation working zone. On December 4 at Chittagong again, one worker was killed after having been hit in the head by a metal piece while the demolition of the german container ship Viktoria Wulff was ongoing. On December 22, another fire devastated the Greek gas tanker Rain ex-Gaz Fountain. No serious victim was reported with the exception of the environment. (*)
Ship dismantling is a hazardous industrial operation. Each year, workers are killed, maimed or burnt. No shipscrapping yard may guarantee to be safe from manpower's accidents. Implementation of health, social, environmental and worlwide rules will be long in coming. The Hong Kong Convention for the Safe and Environmentally Sound Recycling of Ships has only been ratified by 5 countries (Norway, France, Congo, Belgium and Panama). Only for this criteria, 15 countries at least are required for the enforcement of the Convention.
(*) Update.  Bis repetita, on January 9, 2017 the same ship suffered a second fire. This time, 5 workers were burnt to death.  On the previous day, a worker died on another shipbreaking yard at Gadani.
Europe exports more and more
Europe is a heavyweight with regards ships to be broken up. In 2015, 35% were flying a European flag or belonged to a ship-owner established in the European Union or the European Free Trade Association (Iceland, Norway, Switzerland). In 2016, they were 41% and almost all of them have been demolished in Asia; India (39%) was their most favoured destination closely followed by Bangladesh (26%) which has regained a good rating from European ship-owners..
The European regulation which defines the condition of dismantling of European-flagged ships took one step forward. On December 19, the European Commission published the first European list of approved ship recycling facilities where these ships will have to be dismantled. 103 of them would have been concerned in 2006, had the regulation entried into force; 13 of them have been broken up within the European Union. 18 facilities established in the EU are approved, totalling an authorized ship recycling capacity of 900.000 tons (Ldt). They are located in Belgium, in Denmark, in France, in Latvia, in Lithuania, in the Netherlands, in Poland, in Portugal, in Spain and in the United Kingdom. Few of them can accomodate large-sized ships. In Ghent, Galloo Recycling is at present limited to 265 m. 2 shipbuilding and repair yards, Keppel Verolme in Rotterdam which have dismissed over a quarter of its staff in October, and Harland & Wolff in Belfast, have decided to compete for ship recycling contracts. They could use large drydocks, 405 m and 557 m long, but do not have an ongoing experience in ship dismantling. In Hartlepool, Able UK, breaker of the French aircraft carrier Clemenceau in 2009, gives priority to the recycling of offshore structures from the North Sea.
However, do European ship-owners have any interest for European facilities ? This year, Denmark's Maersk Line, the world's biggest shipping company, without waiting for the forthcoming list of approved facilities outside the EU, sent for scrapping the container ships Maersk Georgia and Maersk Wyoming to India, the FPSO tanker North Sea Producer to Bangladesh, and a series of offshore supply tugs to Turkey. The latest shipments -under tow- ended up with the miserable shipwreck of Maersk Shipper and Maersk Searcher off Britanny. The Danish company just announced it is going to scrap 8 container ships with a box capacity over 4000, half of them in India, half of them in China.
Outside the EU, facilities established in China, in Turkey and in India apply for the agreement of the European Commission which has planned to publish a 2nd list during the course of 2017. In order to convince the European Union of the quality of its facilities, the State of Gujarat which administers Alang area has called for massive investments to upgrade its beaching recycling plots.
Tons and cash
937 ships have been broken up in 2016, i.e. an average increase of 21% compared to 2015. The funeral procession would stretch out along 176 km.
In tonnage, the increase has reached +40%. Only Turkey suffered a decline of -3%.
With almost 10 million tons to recycle, 2016 ranks 3rd since 2006 and the first issue of "Shipbreaking" (12.5 million tons in 2012, 10.4 million tons in 2013). Bangladesh and India are on the same level. The Top 5 of shipbreaking countries absorbed 97% of the tonnage.
by tonnage
1 India 3,20 million tons (33%)
2 Bangladesh 3,20 million tons (33%)
3 Pakistan, 1.7 million t (18%)
4 China 1 million t (10%)
5 Turkey 400.000 t (4%)
by unit
1 India, 316 (34%)
2 Bangladesh, 240 (26%)
3 Pakistan, 135 (15%)
4 China, 99 (11%)
5 Turkey, 81 (9%)
Overall, ship purchase prices have increased. In the Indian sub-continent, after 2 substantial declines in the first and second quarters, they ended the year 2016 close to 300 US$ per ton, a rate hardly superior to the one recorded in the beginning of the year. Turkey and China started at very low levels : over the year, the price increase has reached respectively 23% and 43%. The gap with the Indian subcontinent has narrowed. Chinese rates were one half in early 2016 and stand only 25% below by late 2016.
Good news for maritime safety
Substandard ships are still driven out of business. 55% of demolished ships have been previously detained in ports around the world. The detention rate of general cargo carrier is 82%; it is of 68% for bulkers, 50% for car carriers, 38% for container ships and 32% for tankers.
The most punctilious port with regard to ship control is Novorossiysk, a Russian port on the Black Sea. It has totalled 49 detentions among the ships sent to the scrapyards. It's ahead of Newcastle, an Australian port located north of Sydney, specialized in coal exportation (37 detentions). Coming next are Gladstone, another Australian port (29 detentions), Shenzen, in China, (27 detentions) and Singapore (22 detentions). The first European port is Constanta (Romania), ranking 10th.
by category
1 bulk carrier: 4.3 million tons (44%)
2 container ship: 3 million tons (31%)
3 tanker: 924.000 t (9%)
4 general cargo: 705,000 t (7%)
by unit
1 bulk carrier: 374 (40%)
2 container ship: 193 (21%)
3 general cargo: 150 (16%)
4 tanker: 71 (8%)
Container ships are quickly finished off
The future of container ship, the global shipping flagship, is not only dark, it has turned to slaughter. 80 ships scrapped in 2015, 193 in 2016 ; in terms of tonnage, it's 3 times more. The family breaks all the records with regard to early obsolescence. The average age of broken-up container ships is 18 years, a third of them are less than 15 years old, the youngest one, the India Rickmers is 7. Bulk carriers remain down in the dumps: even more of them than in 2015 left to be broken up (374 ships compared to 364) and they still represent the first category. Their average end-of-life age decreased from 25 to 23 years.
The overall average for all categories is 26 years.
These 2 categories total up to 3/4 of the demolished tonnage.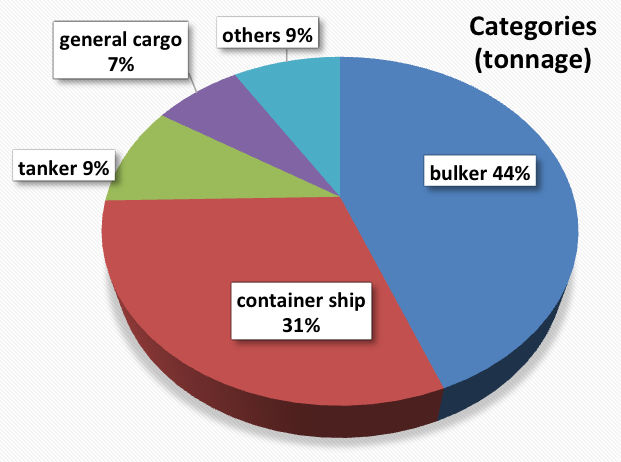 Flags of the last voyage
The deflagging rate on the last voyage has swollen : 13% in 2014, 16% in 2015 and 20% in 2016. Ship-owners and brokers have maintained their preference for the trio Comoros, St. Kitts and Nevis and Palau. Niue Island, population 1190, 260 km2, newcomer in 2015, confirmed to be attractive indeed according to tax and deregulation criteria and got a good 5th place just behind Togo.
European ship-owners are keen to by-pass European regulations : 49% among the 184 deflagged ships belonged to European companies, more than half of them being German. 100% were demolished in Asia.

Imprimer cet article