49 pages of information on the demolition of ships around the world.
Some excerpts:
– 65 years following the nuclear weapons tests the wrecks from the Bikini Atoll are to be broken up.
– An exclusive report on the incredible end of the Probo family including the Probo Koala responsible for the tragedy in Abidjan precisely 5 years ago.
– The killer asbestos in the top 4 demolition countries.
– The demolition market trends from May to July 2011.
– Are French ship owners taking responsibilities? The scrapping of the Renoir and the Cezanne in Dunkirk and the Tellier in Le Havre.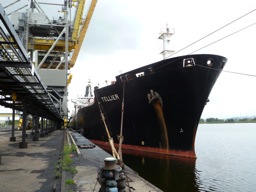 The Tellier in Le Havre, July 2011 © Robin des Bois
– All the tricks of the trade by ship owners or brokers to hide to origin of vessels, changing of flag states and vessel names…
– Suspicions of radioactivity contamination on two tankers quickly leaving the Bay of Yokohama to be demolished in China.
See the bulletin (pdf – 2,96 Mo)

Imprimer cet article