Ship-breaking # 34, Robin des Bois's bulletin of information and analysis on ship demolition.
Overview November-December 2013.

Shock photos of the beaching for demolition of an ex tanker on Gadani Beach, Pakistan.
– The beaching of Luno in Bayonne, the TK Bremen the other way round (Lorient, 2011).
– The Port of Sète is scrapping reluctantly.
– The awful story of a Lebanese cattle carrier
– The German gas tankers choose Alang as ultimate Bay of Refuge.
– Rosatom is saving Sevmorput,-the Russian nuclear-powered cargo ship- from demolition.
– Update on the dismantling of the ex-US Navy ships
– The end of the Ice Maiden I, a ship marked by History, Antarctica and Nelson Mandela.
– The answers to readers of the Ship-breaking bulletin around the world.
and a thousand other information on the demolition of merchant and military ships.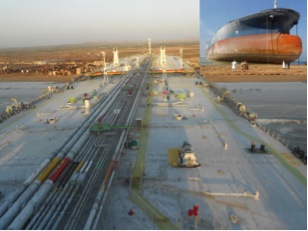 NASA Unity hits the beach in Gadani (Pakistan), November 5th 2013 © Shahid
See Ship-breaking # 34 (pdf. 56 pages. 6.6 Mo)

Imprimer cet article