"On the Trail" n°23, the defaunation bulletin
(pdf, 166 pages – 13.6 Mo)
Rhinoceroses, elephants and mammoths, pages 100 to 136

Information and analysis report on animal poaching and smuggling
from the 1st October 2018 to the 31 of January 2019
1112 poaching, smuggling and rescue casese
16 dead persons: 10 rangers, 2 civilians and 4 poachers
Some quotations :
1 kg of abalones = 315 US$ in South Africa
1 kg of dried sea cucumbers = 188 US$ in China.
1 kg of shark fins = 670 US$ in USA, 800 US$ in India
1 kg of totoaba swim bladders = 59,000 US$ in China
1 kg of sperm whale ambergris = 275,000 US$ in India
1 Indian star tortoise = 55 to 680 US$ in India
850 ml of snake venom = 23,420 US$ in India
1 amazon chick = 10 to 20 US$ near the poaching place and 150 to 200 US$ in São Paulo, Brazil
1 kg of pangolin scales = 430 to 3,200 US$ in Asia
1 leopard skin = 14,000 US$ in India
1 kg of rhino horn = 28,570 US$ in Thailand
1 kg of raw ivory = 170 to 1,960 US$ in Africa,
120 to 2,715 in Asia
Some tricks:
– Lion and leopard skins cut into bands to cross borders.
– Rhino horns 30 horns hidden in a container full of mats and plywood plates or hidden in cake and chocolate packages.
– Poachers disguised as tourists.
– The "Plastic waste" and "Tea leaves" networks are still in operation.
– Conures, parrots and green iguanas hidden in plastic bags behind the door trim of a Chevrolet.
– Turtle hidden in a passenger's crotch.
– Lion teeth ans claws in a thermos flask and wrapped in foil.
– Small boas among toys.
Logs partially dug and filled with ivory and pangolin scales drowned in wax blocks. The tips of the logs are then reconstituted with wood, sawdust and ankles by a cabinetmaker.
p.68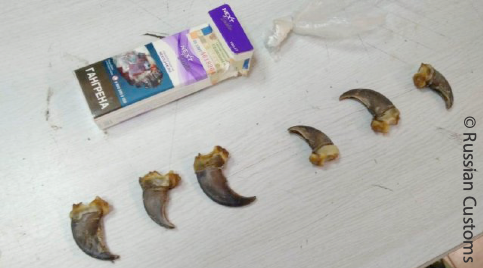 Seizure of 6 bear claws hidden in a cigarette pack following their discovery by Laura, a Russian customs dog.
p. 98
Five seizures in 9 days in passenger's luggage from Addis Ababa. Overall seizure of 82 worked ivories (2,064 g), some hidden in candy boxes.
p.129
The belief of # 23:
An Indian eagle-owl is reputed to bring wealth… and keep away agents from the tax authorities.
The one without complex :
"The Czech CZ is launching a second version of its 550 Safari Classic rifle for hunting dangerous animals from
the Black Continent"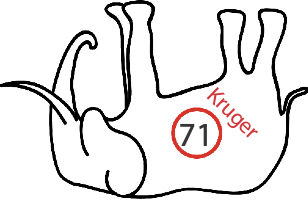 The myth of the fortress of Southern Africa is further crumbling
71 elephants killed in Kruger Park in 2018
"On the Trail" n°23 (pdf, 166 pages – 13.6 Mo)
Carried out by Robin des Bois (Robin Hood)
with the support of the Brigitte Bardot Foundation,
the Franz Weber Foundation
and of the Ministry of Ecological and Solidarity Transition, France

Imprimer cet article