"On the Trail" n°26,
The defaunation bulletin
739 events from the 1st July to the 30th September, 2019
470 source of information
116 pages, 13 Mo
HEALTH HAZARDS ANTE COVID-19
Seizure of 5.65 kg of dried sea cucumbers in China. They are suspected by the veterinary services of carrying bacteria, viruses and harmful insects, p. 13.
Seizure of 2,681 kg of arapaima and 3,000 kg of piracatinga (two fish species) in Brazil. The former were given to the diocese of Tabatinga for its good deeds. The latter were dumped because of excessive mercury levels, p. 14.
Seizure of 67 birds in Argentina. "Mascotry affects each captive bird, the future of the species, the balance of natural habitats and even threatens the life of their masters through the transmission of diseases such as psittacosis," the provincial government said in a news release, p. 36.
Express skinning of an elephant that died of electrocution. Raiding on the spot, KWS agents interrupted the sharing by pointing out the health risks of meat unfit for human consumption, p. 81.
Seizure of 22 fruit bats in India. A spokesperson for sanitary services remind that fruit bats are able to carry the Nipah virus and thus contribute to the spreading of one acute respiratory syndrome or, at worst, terminal encephalitis, p. 99
Seizure by inspectors from the police prefect of frozen antelope meat in a grocery store in the 18th ward north of Paris. It was immediately made unfit for consumption through spraying with bleach, p.100.
CORRUPTION
Seizure of 936 abalones at a South African Police Service (SAPS) officer's house and arrest of 5 MORT (Major Offences Reaction Team) officers who diverted a minibus full of abalones, p. 10.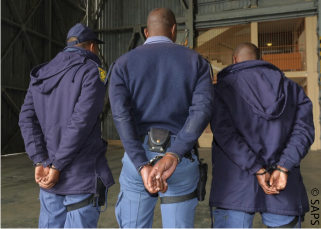 In Côte d'Ivoire, arrest of a couple who operated a network of pangolin gatherers and scale shuckers. The husband is an officer with the Ministry of Livestock and Fishery Resources, p. 48.
In Malawi, arrest of a court clerk. He is suspected of having stolen or facilitated the theft of 2 tusks that were secured as exhibits in the court's vault, p. 82.
In Tanzania, seizure of 413 tusks or sections of tusks corresponding to the poaching of at least 117 elephants and arrest of 6 people including 2 police officers, p. 83.
In Namibia, arrest of a teacher of in trouble children who was driving a government vehicle carrying sections of elephant tusks, p. 85.
TRICKS FOILED BY SEIZURES
2,981 g of seahorses in a car's toolbox in China, p. 6
23 dead Elaphe davidi snakes hidden in a box of hair dye in China, p. 27.
12 live juvenile snakes enclosed in money boxes in Thailand, p. 28.
Seizure of a Pennant's parakeet in a wine bottle case carried by a Dutch traveller about to fly to Egypt from a German airport, p. 43.
Seizure in Germany of an American black bear pelt with the head from a postal parcel sent from Canada and believed to contain a "teddy bear", p. 74.
55 rhino horns and fragments encased in plaster in Vietnam near the border with China. Police used piolets. Half a day's work, p. 78.
25 pearls disguised as lollipops in China, p. 89
THE MILK POWDER NETWORK IN CHINA
At Chengdu-Shuangliu Airport, the 6 cans of powdered milk each contained a baby African spurred tortoise, p. 24.
In Quanzhou, 719 g of worked ivory seized in a package from the Netherlands officially carrying "powdered milk for adults", p.88.
At Guangzhou-Baiyun Airport, a 5 kg box of powdered milk contained 9 worked ivories, p.89.
RESCUE
In Indonesia, the forest is burning and the orangutans can't look the other way. They are trapped in the ashes and smoke. Hiding in trees, they cough and they don't eat anymore.
Rescue of 2 adults, about 20 years old. They were transported to Gunung Palung National Park, p. 56.
In France, seizure and release by ONCFS officers of 39 European goldfinches, 6 chaffinches, 4 Eurasian bullfinches, and one Eurasian siskin, p. 45.
In South Africa, the Saving the Survivors team covered the wound of a female rhino with a dressing made of elephant skin collected from a taxidermist, p. 76.
JUSTICE
In Colombia, Chucho's legal status is the subject of debate. Should we continue to call him Chucho or should he be Mr. Chucho? The Constitutional Court magistrate has confirmed that "animals have the right to not be subjected to physical violence, to live without hunger or thirst, to not be subjected to stressful conditions or fear". "Animals have the right to express their natural behavior and not suffer from exploitation," he added. And the lawyer has called for recognition of his client's personality and the full-fledged right to live in a habitat that is as natural as possible, p. 72.
TRENDY
Rhino's nails, 3 per foot, are now sought after by networks in India, p. 78.
DRUGS AND BIRDS
Seizure on a skiff of meth bundles and baskets full of melodious laughingthrushes, white-rumped shamas and black-throated laughingthrushes. If any of them were to turn out to be gifted singers or already well-trained, they can be worth over 2000 US$ in neighboring countries, p. 42.
BAD TRIP
A 22-month-old toddler is admitted to a paediatric hospital in absolute emergency. It turns out that he was poisoned after his parents made him drink a potion supposedly containing rhinoceros horn powder to cure him of a mild fever. He was saved, p. 78.
CASUALTIES
23 dead persons: 4 rangers and 16 poachers
MONEY
– 1 kilo of saiga horns: 3,950 US$ in China
– 1 kilo of abalone: 175 US$ in South Africa
– 1 kilo of dried sea cucumbers: 514 to 2,000 US$ in China
– 1 whale shark: 10,450 US$ in India
– 1 swordfish: 1,500 US$ in Spain
– 1 meter of raw python skin: 156 US$ in Turkey
– 1 Bengal monitor lizards: 30 US$ in India
– 1 hemipenis of Bengal monitor lizard: bought 21.50 US$ in the state of Rajasthan in India and resold 125 US$ in Haryana.
– 1 Madagascar tortoise of 40 cm length: 40,000 US$ in Taiwan
– 1 yellow-headed parrot: 100 US$ in El Salvador
– 1 kilo of pangolin scales: 65 to 200 US$ in Indonesia, 3,015 US$ in India
– 1 Sumatran tiger skin: 4,000 US$ in Indonesia
– 1 living lion cub: 3,500 US$ in South Africa
– 1 leopard skin: 2,790 US$ in India
-1 kilo of rhino horn: 60,000 US$ in Vietnam
– 1 kilo of raw ivory: 72 to 963 US$ in Africa, 1,453 to 3,480 US$ in India
– 1 living meerkat: 4000 US$ in Taiwan.
"On the Trail" n°26
https://robindesbois.org/wp-content/uploads/ON_THE_TRAIL_26.pdf

Imprimer cet article