"On the Trail" n°35, the defaunation bulletin
1,420 events with references, checked, analysed, commented and strenghtened between January 1 and March 31, 2022
368 iconographic documents.
10 maps and historical archives
(pdf, 218 pages – 7.4 Mo)
The Covid-19 pandemic continues to put pressure on wild animals. Trafficking in bush and forest meat has taken hold. Traps and local food networks proliferate. Wildlife orphanages are overwhelmed. Carbofuran and cyanide poisonings are spreading throughout the world. France is not spared.
The simultaneous trafficking of wildlife and drugs is confirmed.
While reading "On the Trail", you will observe Qataris or other Middle Eastern elites in Pakistan hunting bustards with falcons and triggering the death of a wildlife defender (page 131), but you will also be able to free owls in Moscow, and falcons in Mykolaiv in Ukraine (chapter Birds, pages 113 to 146) and admire the exceptional boreal owl.
Several valuable animal by-products – feline skins, pangolin scales, ivory, smoked chimpanzee meat, leopard teeth, swim bladders, bird's nests…- are seized mixed together in the vehicles, hideouts and homes of smugglers. In India, a snake skin, 2 tiger skins and "ghost detection machines" were seized from a guru who tortured children and practised black magic (page 184).
In Kenya, 50-year-old "Tolstoy" flew into another world. He weighed 5 tonnes. He was the victim of a spear. In Congo, a soldier was given a three-year suspended sentence for selling tusks, one of which was only 7-8 cm long. In China, "Wang" was fined 3,640 US$ and she was ordered to print and display 5,000 wildlife protection leaflets and publish a letter of apology in the press for trading in 12 carved ivories.
"Tolstoy" © Federico Veronesi
A bad quarter for tigers and leopards, with trapping, hanging, lynching, electrocution and strangulation by increasingly criticized geolocation collars.
It was also a bad quarter for rhinos in South Africa. 75 rhinos were killed between January 1 and April 4 in KwaZulu-Natal province alone.
Large-scale trafficking in pangolin scales resumes. 450 kg of ivory and 6 tonnes of scales were seized from a single sea container in Da Nang, Viet Nam. In the Democratic Republic of the Congo, a pangolin was taken hostage. Proofs of life go along with ransom demands and death threats. In India, a giant 34 kg pangolin was rescued in extremis. "Pangolins all have the most unique little personalities," says a pangolin vet.
If you want to follow the sad adventures of W, from Montana (USA) to Creuse (France), go to pages 63 to 69 and pages 121, 185 and 186.
In Tamil Nadu, India, children ride a whale shark.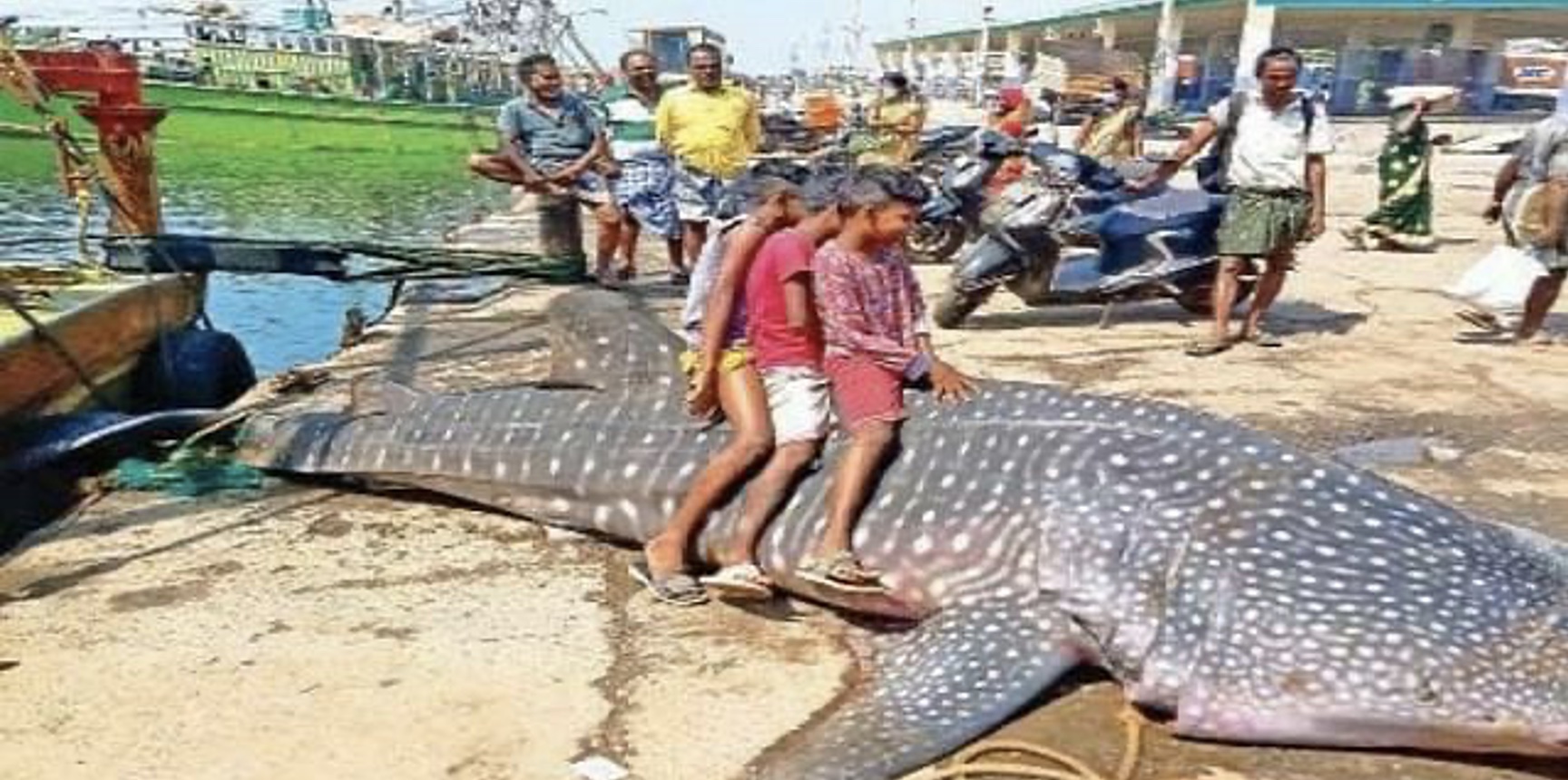 © New Indian Express
In the USA, Elon Musk, between tweets, mistreats rhesus macaques imported from Southeast Asia (pages 97-98).
In France, stealing frog eggs from private ponds in the Jura region can be very lucrative if you are successful with their hatching and metamorphosis, and it's not expensive in criminal terms. The president of Interprofessional Union of the Common Frog was sentenced to 307 € for stealing 50,000 eggs, i.e. 0.00614 € (less than a cent) per egg.
Off the Indian coast, sawfish have been seen less than 10 times in 10 years. The last specimen ended up on the docks and its rostrum, worth its weight in gold, is probably already on the market.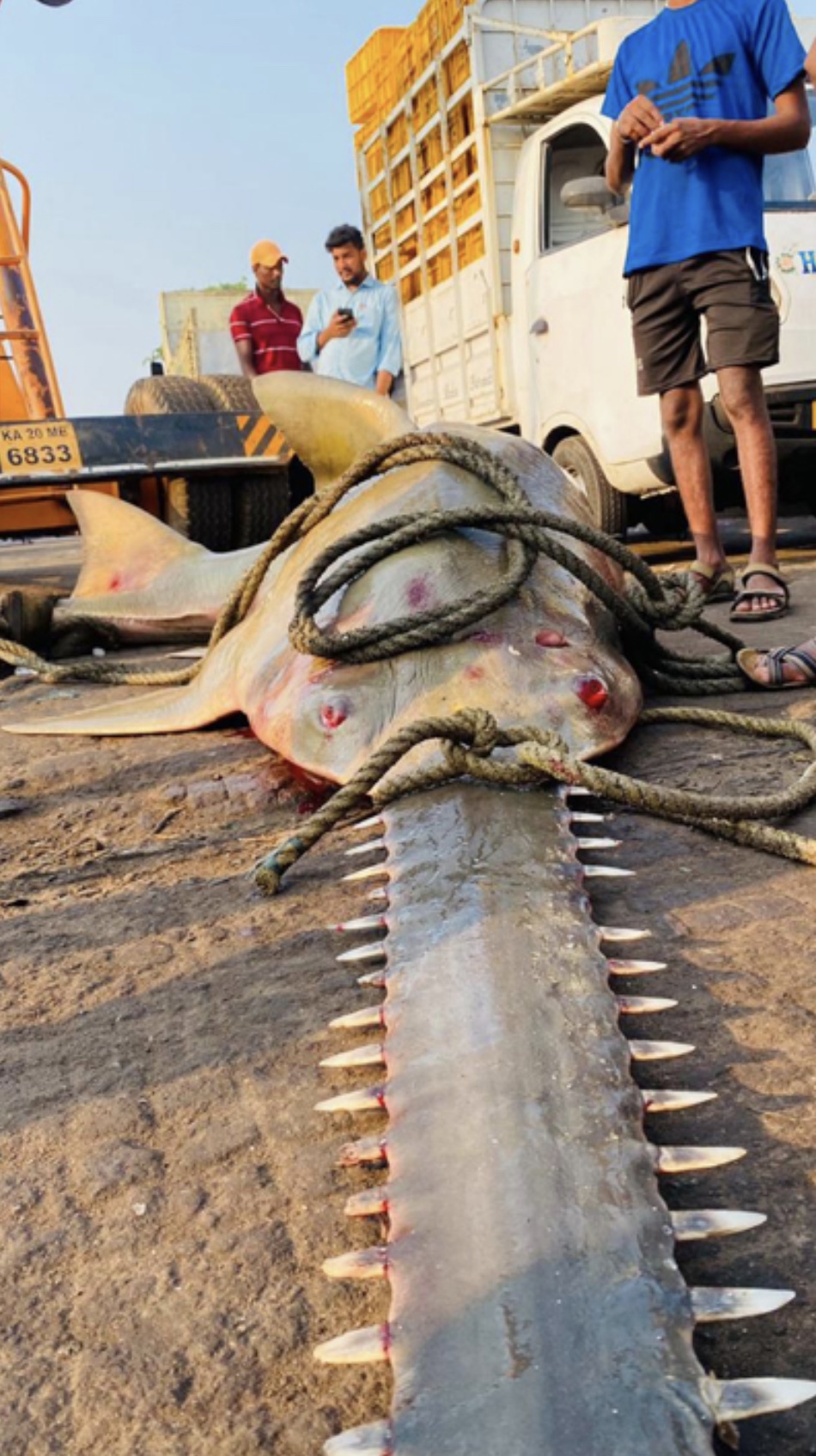 © Mangalore Today
Thanks to "On the Trail" you can track down caviar in Russia, Kazakhstan and the United States of America, it will deter you for good from eating it during the greeting season.
© КНБ РК
Some prices:
A donkey penis: 25.5 US$
A 150-gram "Gaja Muthu" pearl (concretions that form at the base of elephant tusks): 250,000 US$ in Sri Lanka
A baby chimpanzee: 25 US$ in Sierra Leone, 50,000 US$ on the international market
Totoaba swim bladders: 27,750 US$/kg in China
Bone glue from a 200 kg tiger: 26,950 US$
A live giraffe: 13,000 US$ in Brazil
An adult albino python: 2,777 US$ in Brazil
A campo troupial: 685 US$ in Brazil
A stuffed brown bear: 450 US$ in Hungary
A common box turtle: 80 to 200 US$ in the United States of America
A baby macaque: 40 US$ in Thailand
A pangolin scale: 5 US$ in China
Boreal owl (Aegolius funereus) © David M. Gascoigne
Season's greetings!
"On the Trail" n°35
https://robindesbois.org/wp-content/uploads/ON_THE_TRAIL_35.pdf
"On The Trail" has been carried out by the NGO Robin des Bois since 2013 with the support of the Brigitte Bardot Foundation, the Franz Weber Foundation and the French Ministry of Ecological Transition. "On the Trail" gets sponsorship from the Séché Environnement group.

Imprimer cet article