Robin des Bois and GEIDE post-disaster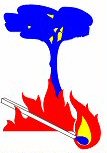 Nobody can be blamed for the outbreak and consequences of earthquakes of large magnitude. For forest fires, it's a different story. Only the lightning escapes human responsibility. Man is the cause of more than 9 out of 10 forest fires.
Barbecues, gas stoves, cigarettes, motorcycle incursions, quadbikes or other vehicles with internal combustion engines, campfires, fireworks and combustible wastes are all risks of fire in an environment that is vulnerable to conflagration. A spark can ignite thousands of acres and a small fire can in a few seconds become uncontrollable.
 The mundane, daily and negligent activities have dramatic consequences in this arena; they are multiple and sometimes unexpected:
– Loss of human life among the troops of firemen, aerial fire-fighters and those on fire-front or trapped by heat, flames and smoke.
– The deterioration of the public health by inhaling fine particles carried by the smoke. Forest fires release significant concentrations of gases and toxic compounds, such as mercury and dioxins. Smoke from the agricultural plots and vineyards bordering forests carry persistent organic pollutants resulting from the burning of pesticides.
If forest fires near suburban areas reach housing estates and warehouses, fumes will carry domestic and industrial pollutants that can contaminate agricultural areas. Fine particles suspended in the air penetrate the lungs and are harmful to health. At first, fumes trigger nasal and lachrymal fluid, irritation of the throat and sinuses and headaches. Among sensitive individuals, they then foster the apparition or resurgence of coughs, asthma, bronchitis, allergies, respiratory difficulties and pulmonary and cardiac pathologies. The most vulnerable populations are children, the elderly, pregnant women, smokers, those predisposed to pulmonary and cardiac illnesses, athletes, hikers and those who work outside. These health complications are not sufficiently explained or recognized by the referent bodies in Europe and in particular the Mediterranean region.
– Night birds, sparrows, bats, mice, tortoises, salamanders, insects, snakes, lizards and other forest animals die by the thousands. Forest fires are cruel and do not discriminate. Equestrian centres are very exposed.
– The ashes in suburban settings are burdened with plaster dust, paint, asbestos and other materials and can become hazardous waste. They concentrate poisons embedded into the biomass and domestic goods consumed by the forest fire. Drained off by the rain, they end up in aquatic environments and pollute them with important quantities of toxic metals and nitrates.
– Nitrogen and phosphate left behind by flame-retardants dropped by aerial fire-fighters also contribute to the eutrophication of rivers. Retardants containing ferrocyanide pose a threat to aquatic fauna in case of running off.
– The disappearance of vegetative cover impairs the cohesion of soils and promotes erosion. Several months and years after a forest fire, mudslides and landslides became a major risk after thunderstorms and heavy rains. Forest fires on the slopes of mountains and hills have the same effects as deforestation.
– Forest fires trigger the domino effect, downed power lines, toxic burning of transformers, explosion of war remains, breaking up of gas and oil pipelines and unauthorized dumps fires.
The risk of forest fires officially concerns 6,000 communities in France and Corsica, or one out of every six. The majority of them are located in the southern half of the country but forest fires are becoming ever more prevalent in others regions, Central France, Poitou-Charentes, Pays de la Loire, Brittany and Ile-de-France. In addition, forest fires do not only occur during the summer. A third of them occur during in autumn, winter or spring.
Consequently, it is imperative that all those surveying or working in forested environments, moors, garigues, peat bogs, scrublands and woods develop a comprehensive, pedagogical and shared plan to combat this issue.
See also : prim.net to be aware of the potential risks of your living or holiday residence,
Federal Emergency Management Agency (FEMA),
National Interagency Fire Center


Imprimer cet article