11:40 am – Press release n°3
Robin des Bois wrote yesterday to Rosatom, owner of the Sevmorput. Thanks to Rosatom for his reply:
"Thank you for your request.
Concerning the situation on the nuclear-powered container ship Sevmorput, we point out that the life and health of the crew members of the nuclear-powered container ship Sevmorput have not been and are not threatened. The ship has full navigational capabilities. The nuclear reactor on the container ship Sevmorput is operating in normal mode.
Sevmorput is currently located in the Atlantic Ocean off Angola. The ship is undergoing repairs to the rudder-propeller. Due to damage to one of the propeller shafts of the nuclear container ship Sevmorput, it has been decided to dismantle it. To this end, a group of divers arrived on board the ship.
The information about the container ship being stationed at one of the foreign docks was false."
We understand that the Sevmorput's propeller and rudder are being repaired or replaced and that there are no plans to date to take it to port. To be continued.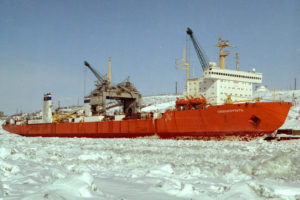 Sevmorput, Yenisei River, Krasnoyarsk Territory, 2007 © Sergey Vladimiro
Sevmorput movements from 24th to 25th November 2020 © Screenshot MarineTraffic
See also :
An atomic merchant ship is zigzagging towards Antarctica, November 10, 2020 (press release n°1)
Sevmorput in breakdown off the coast of Africa, November, 19 2020 – 15h30 (press release n°2)

Imprimer cet article