On July 15th 2013 a fire broke out onboard the Hansa Brandenburg (IMO 9236236), a container ship 176 m in length with a capacity of 1,740 TEU (Twenty-foot Equivalent Unit) operating under the Liberian flag. The ship was sailing from Singapore to Durban (South Africa) and was located 200 miles off the coast of Mauritius. The crew of 17 was unable to extinguish the fire that continued to spread. Another container ship, the Donau Trader, deviated to rescue the crew and bring them safely to Port Louis in Mauritius. The burning ship drifted for several days until the fire was brought under control by Five Oceans Salvage and Smit Salvage on July 19th. The Hansa Brandenburg was towed towards Port Louis after permission was granted for assessment and potential repairs to be carried out.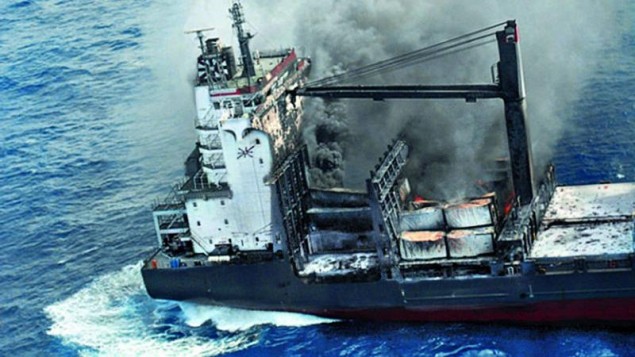 Hansa Brandenburg, July 15th, 2013 – All rights reserved
The story gets complicated. The origin of the fire is unknown; it is believed that it broke out in a container situated underneath the bridge, in front of the control and accommodation block which was consequently destroyed. The Hansa Brandenburg has became a contaminated site, analysis have revealed high concentrations of heavy metals (cadmium, chromium, lead, arsenic…) in the fire residue. Mauritian authorities did not authorize the unloading of the burnt containers and residue. Sources announced, mid-September, the sale of the container ship for demolition.
Unlike NSB (Niederelbe Schiffahrtsgesellschaft mbH & Co KG) the German owner of the container ship, MSC Flaminia, the German owner of the Hansa Brandenburg, Leonhardt & Blumberg, did not bother to remove the burnt containers, the fire residue or the extinguishing waters before selling it, for demolition to a broker. The broker will send her to India or Pakistan, in line with its usual practice, to be broken up. The wreck was sold in its current state, with its charred cargo, hazardous materials, contaminated extinguishing waters and 1600 tons of bunkers. The towing operation and the demolition of the ship seriously put in danger the marine environment and the safety and health of the workers.
ALERT in India, in Pakistan and in Bangladesh!
(*) See also:
MSC Flaminia special page, press releases July-August 2012
Ship-Breaking # 31, Chapter MSC Flaminia, p 2 (pdf)

Imprimer cet article