Update of October 4 in link
Update of October 8 in link
Forget the Deep One, Saint Kitts and Nevis flag, ex-Odeep One, Panama flag! Take note that she is now called the Lotus, Gabonese flag, belonging to a certain Seaeco Global Pte Ltd, born on August 17, 2021, whose activity is building and repairing of ships as well as wholesale trade of various goods. Is it a way for Seaeco to negotiate at the best rate possible the pallets of expired hydro-alcoholic lotions stuck on board its property?
The international crew who maliciously took possession of the antique factory ship in the port of Sète has been at sea for 69 days. Is this closed-door situation bearable? Has the Covid turned up on board? For the past 22 days the Lotus has been roaming off Sri Lanka at an average speed of 4 km/h after having successively announced under her previous identities to be heading for Malta, Colombo and Galle in Sri Lanka, Chittagong in Bangladesh and Singapore.
Have the port men of Sète who facilitated the escape of the Lotus blues in the souls as they watch their ghost ship turning in circles in the southern Indian Ocean like a caged bear?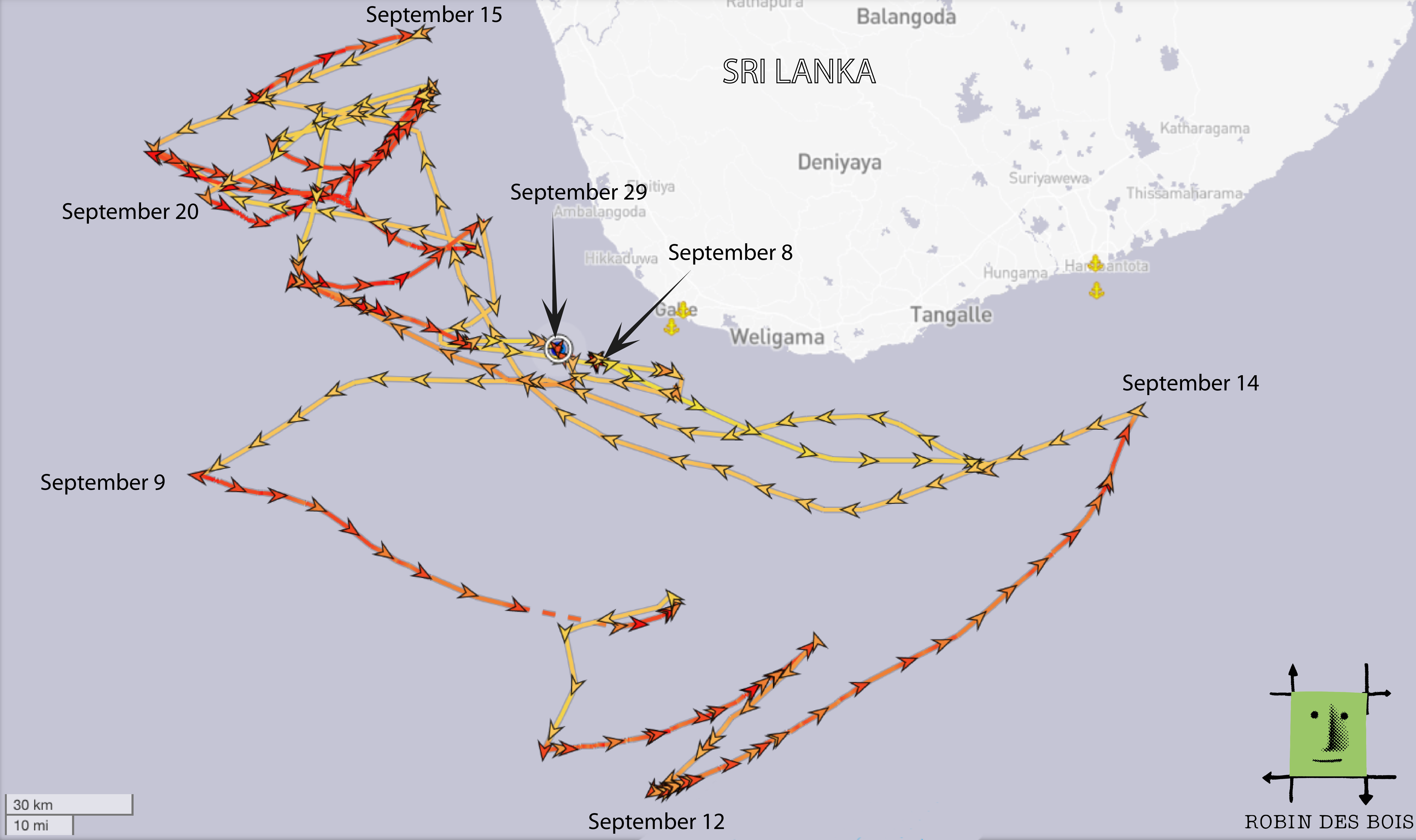 The ramblings of the Lotus, ex-Odeep One, from September 8 to 29, 2021
October 4, 2021:
On October 1st, at 15:53 UTC, the Lotus ex-Odeep One reports another change of destination. She is no longer heading for Singapore but for Mumbai on the west coast of India. She then switches off her Automatic Identification System (AIS).
On October 3 at 1:53 UTC, she reappears south of India on the radar screens. She follows a course of 290° then turned northwest at 336° towards Mumbai. Her arrival is expected for October 8 at 13h04 UTC (18h34 local time).
She is getting closer to the demolition option. Alang shipbreaking yards are only 300 km away from Mumbai. Those of Gadani (Pakistan), 900 km away, are not yet out of the game.
October 8, 2021:
The game is over. The Lotus ex-Odeep One built in 1986 has confirmed what was in the air since her departure from Sète on July, 23 and her wandering for several weeks off the coast of Sri Lanka. On October 7th at 14:47 UTC, the destination reported by her AIS was updated: she was no longer heading for Mumbai but for Bhavnagar, headquarter of the Gujarat Maritime Board in charge of issueing clearance certificates for ships to be scrapped. The Lotus had reached the latitude of Mumbai, she went on sailing and changed course towards the Gulf of Khambat. In a few days, she will be beached in Alang. Price per ton: 578 US$. The sale brought in 9 million US$ for the owner and the middlemen. It formally includes the desalination plant. As a reminder, the Odep One had been converted into a factory-ship equipped to pump seawater 300 m deep and bottle it after filtering and desalination on board. The industrial process as it was planned ended with the discharge of brine into the sea.
See also:
Un navire poubelle se fait la malle à Sète (only in French), July 26, 2021
Sète (South France)-Colombo (Sri Lanka): the mad escape of the Odeep One, July 30, 2021 – 12h
Odeep One – Press release n°3 (only in French), July 30, 2021 – 14h
Odeep One – Press release n°4 (only in French), August 3, 2021
Positions of the Odeep One on August 7 and August 21, 2021
55 days on the run, Septembre 15, 2021

Imprimer cet article