CITES CoP18 Press release n°1
The 18th meeting of the Conference of the 184 Parties (CoP) to the Convention on International Trade in Endangered Species of Wild Fauna and Flora – CITES – is meeting in Geneva from 17 to 28 August 2019. Robin des Bois (Robin Hood), the Paris based NGO, has been an observer at CITES for 30 years. This conference was scheduled to be held in Colombo in May-June 2019. It was postponed and then moved to Switzerland due to the April 21 attacks in Sri Lanka.
Will CITES prove that it is competent to coordinate the international cooperation against environmental crime and resist the siren song of the wildlife extinction capitalism?
Will CITES Parties finally recognize that wild animals are No Border and that species such as giraffes and elephants should have the right to move across political and administrative boundaries?
In Geneva, 57 proposals for uplisting or downlisting on the CITES Appendices will be discussed. Appendix I prohibits international trade, Appendix II regulates it. The proposals include mammals such as elephants, rhinos and giraffes, birds such as the Reeves's pheasant, geckos, tortoises, shortfin makos, guitarfish, three species of sea cucumbers (holothurians), tarantulas, butterflies and trees such as padouk and African teak. Jair Bolsonaro had the Brazilian proposal to list in Appendix II the ipé withdrawn. Showed off on the esplanade and steps of the François Mitterrand Library in Paris (1), the ipé, a tree from the Amazon basin, is now looted and exported to 60 countries, led by the United States of America and European Union, where it is sold for 1200 €/m3. The proposal was partly justified by deforestation data from the Brazilian National Institute of Space Research (INPE), whose director has just been dismissed.
The information and analyses from Robin des Bois' quarterly bulletin "On the Trail" on poaching and smuggling have been referenced in the listing proposals of tokay geckos, India star tortoises and 15 species of tree and ornamental tarantulas belonging to the genus Poecilotheria endemic to India and Sri Lanka.
Tokay Geckos. India, the United States and the European Union propose their listing in Appendix II. From South and Southeast Asia, these multicolored lizards, 18 cm long on average, are caught in forests, smothered, gutted, dried and sold whole, in powder or in alcohol for their supposed healing properties of sexual impotence, cough, cancer and even AIDS. Traffickers take advantage of the credulity and despair of the families to raise prices to €100,000 for a specimen of exceptional size. Live tokay geckos are also exported to Europe and the United States as pets. Indonesia, which is at the heart of the traffic, and China, the main consumer country, have already expressed their opposition to this listing. Between 2004 and 2013, Taiwan is estimated to have imported more than 15 million individuals.
Indian star tortoises. India, Bangladesh, Sri Lanka and Senegal propose their transfer from Appendix II, where they have been listed since 1975, to Appendix I. Of all tortoises, it is the species most often seized worldwide. The "On the Trail" n°23 recorded 1394 Indian star tortoises removed from the hands of traffickers between October 2018 and January 2019, 582 of which were piled up in crates in Chennai, Tamil Nadu State, India. According to Interpol, seizures account for only 10 to 15 per cent of smuggling. Their shells are similar to stars in the sky. They are supposed to bring happiness and are highly sought after as pets in Asia, Europe and the United States. Their quotation in Calcutta is currently from 4000 to 6000 rupees each (from 50 to 80 €). It climbs to €800 on the European market. The position of Jordan, one of the main Indian star tortoise exporting countries whereas it is outside the natural range of the species that is resistant to captive breeding, is awaited with interest.
Sea cucumbers (holothurians). After 17 years of preliminary discussions, they could enter the CITES Appendix II. Gardeners of the seabed and coral reefs, sea cucumbers are among the 5 essential gastronomic delicacies in Asia with shark fins, swallow nests, totoaba swim bladders and abalone. The main consuming countries are China including Hong Kong SAR, Taiwan, Singapore, South Korea and Malaysia. But not only that. Throughout the world, Chinese restaurants offer sea cucumber soup on the menu (example in Paris, Belleville, 22.8 € the bowl). Sea cucumbers are also said to cure anaemia, fight cancer, alleviate the pain of osteoarthritis, including for cats. They are also incorporated in cosmetics (2). Easily accessible in shallow waters, populations are depleted or overexploited in most range countries. The volume of catches has increased by a factor of 15 since the 1950s. The proposal drafted by France and supported by the European Union, the United States, Senegal, Kenya and the Seychelles aims to list three species of teatfish in Appendix II, including Holothuria (Microthele) fuscogilva sold up to US$400/kg in Hong Kong. China is resolutely against it.
Giraffes. Kenya, Chad, Central African Republic, Mali, Niger and Senegal propose their listing in Appendix II. There were about 150,000 of them in 1985, and they are half as many in 2019. The queen of the savannah is threatened by appetite for bushmeat, sport and leisure hunting, habitat fragmentation and armed conflict. They disappeared from Angola and Mozambique after the civil wars that hit these two countries. Their bones are increasingly used as a substitute for elephant ivory in cutlery and firearms butts. Their skins end up in handbags or carpets, their tails in fly swatters, their hair in bracelets for tourists, their skulls with ossicons (horns) in interior decoration and their legs in table legs (1900 € on Amazon.fr). Traffickers are opportunists. They are always ready to take advantage of the distress and Robin des Bois denounced the rumour that the giraffe bone marrow would heal from AIDS.
Elephants. They are concerned by four proposed amendments to the CITES Appendices. Burkina Faso, Côte d'Ivoire, Gabon, Kenya, Liberia, Niger, Nigeria, Sudan, Syrian Arab Republic and Togo, on behalf of the 32 countries of the African Elephant Coalition, propose the relisting of all elephants in Appendix I. The European Union has decided behind closed doors to oppose this proposal; only France and Luxembourg have clearly declared themselves in favour of a total ban on the ivory trade. Currently, elephants claimed by Botswana, South Africa, Namibia and Zimbabwe are in Appendix II, while they are in Appendix I in other African countries. This aberration for a migratory animal – at least 76% of African elephants are transnational – is a godsend for poachers and traffickers. It opens widely the door for the marketing of ivory from all countries. For his misfortune, the elephant is a political animal, as demonstrated once again by Botswana's about-face. Tshekedi Khama, Minister of Environment, Wildlife and Tourism, stated at CITES 2016 meeting in Johannesburg: "The demand for ivory is increasing, the demand for protection must be everywhere. Poaching is spreading southward, trafficking networks are omnipresent. No elephant population is immune and we have a responsibility to other African countries." Since then, the government has changed. Botswana now aligns itself with Namibia and Zimbabwe and is seeking special permit to sell abroad raw or worked ivory and elephant skins. In the same vein, Zambia requests the downlisting of "its" elephant populations from Appendix I to Appendix II. However, these strategies for redeploying legal ivory exports are hampered by the gradual closure of domestic markets in Europe, the United States of America and China. In the current state of elephant geopolitics, only Japan could be interested and it is not certain that it will take the risk of embarking on this dangerous adventure while its pubic image is darkened by its unilateral reopening of whaling inside the waters within its juridiction.
Woolly mammoths. An original and subtle proposal for their listing in Appendix II is presented by Israel and Kenya. Seizures of mammoth tusks on the Russian-Chinese border are increasing. Mammoth ivory is able to be sold in Hong Kong under the false name of elephant ivory. In the opposite direction, elephant ivory could be displayed as mammoth ivory to dodge national regulations. India already bans the import of mammoth ivory and the States of New York, New Jersey, California, Hawaii, Illinois and Nevada have recently linked mammoth ivory to the ban on marketing elephant ivory. Russia claims to be overwhelmed by the looting of its paleontological heritage and the destruction of Siberian permafrost by white gold prospectors. Its position will be crucial for the future of this proposal. Barring any pleasant surprise, the European Union will issue an unfavourable opinion.
CITES will also study about 100 working papers, for example on lions, jaguars and Asian big cats, songbirds, pangolins, Banggai cardinalfish and other ornamental marine fish. The proposals and working documents are available online on the CITES website https://cites.org/eng/cop/index.php
(1) Cf. « La Flèche », journal de Robin des Bois, mai 1995. (Only in French)
(2) Cf. the chapter « A Sea Cucumber Ending » in « On the Trail » n°4, p.107.
To be published on October 9, 2019
Editions Arthaud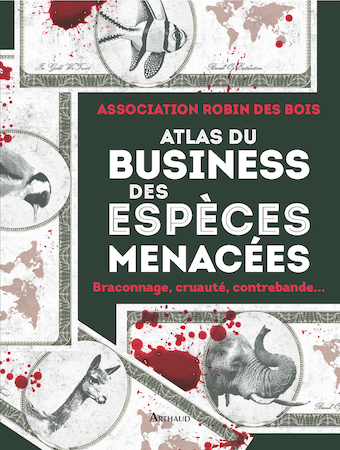 Imprimer cet article