The 14th Information bulletin on ship demolition is available. It covers the period of September 22nd to December 31st during which a rush of old hulls heading towards Asian ship-breaking yards is noted. 54% of these vessels belonged to European ship-owners or belonged to members of the European Free Trade Association (EFTA). In this trend the French ship-owner CGM-CMA sent to be demolished the I'Ursula Delmas ex-Sherbro, the Véronique Delmas and the CMA-CGM Potomac. 65% of the vessels left for demolition during the last trimester of 2008 had previously been detained in harbours worldwide for deficiencies; this confirms deterioration in the maintenance and in the general condition of vessels. They all left without pre cleaning.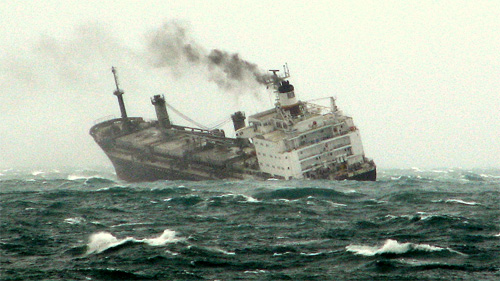 The bulk carrier Cementco, en route from Brisbane to Gladstone (Australia) – August 2007 – © Shipspotting
The Global Statement 2008 on demolition is available together with the Information bulletin No.14 .
In the mean time beyond this ecological and sanitary disaster there are four rays of light.
– The Serepca 1, a floating storage belonging to Total, ex- tanker Kasprowy Wierch, built in 1974 in Germany, (see Round Robin # 1 , July 22nd 2008 and the Bulletin Ship-breaking.com #13) is subjected off Cameroon to the extraction of hazardous wastes which will be treated in Europe under the framework of the Basel Convention.
– The Clemenceau  file and that of the Victor Pleven ex- fishing factory ship which left Lorient to be demolished in Ghent (Belgium) were treated under the framework of The Basel Convention on the Control of Transboundary Movements of Hazardous Wastes and their Disposal, two French exceptions which confirm the absence of global regulations. Concerning the dismantling of the Clemenceau in Hartlepool (Great Britain), the Marine Nationale agreed to organise three visits of the breaking yards in the presence of the concerned NGOs.
– Once again in France in the Bassens breaking yards in the Gironde Estuary and on an appropriate platform in Concarneau, around twenty fishing ships were dismantled and the majority of the materials recycled. This is the beginning of a business of ship-breaking which has to be developed to deal with commercial and military vessels which cannot for security reasons be tugged in the distances.
– In 2008 25 vessels from The United States reserve fleet where dismantled in American ship-breaking yards. The United States seem to be progressively turning away from the dogma of scuttling.
Click here to access « Shipbreaking » n°14.

Imprimer cet article