November 20, 2020 – Press release n°2
The arrival of the Russian nuclear-powered cargo ship was scheduled for early November at Progress station, in the north of the Antarctic continent.
For more than a month, the Sevmorput has been suffering a failure. She has been sailing at reduced speed to and from a small square in the South Atlantic Ocean off Angola and Congo Brazzaville.
According the social network Vkontakte spread by the Barents Observer, the breakdown of the only civilian nuclear-powered merchant ship still in operation does not affect the reactor compartment. The technical problems would come from the propeller shaft. Divers would be at work to carry out repairs, which could only be precarious.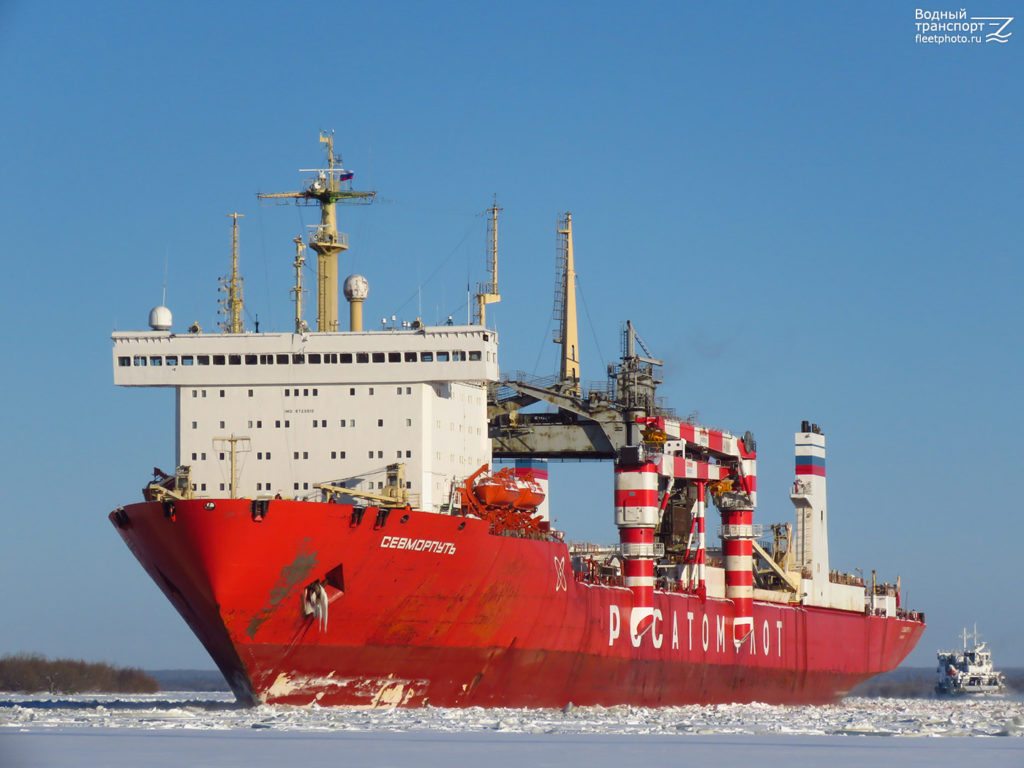 Sevmorput, Arkhangelsk Oblast (Russia), March 6, 2019 © Sander van Hool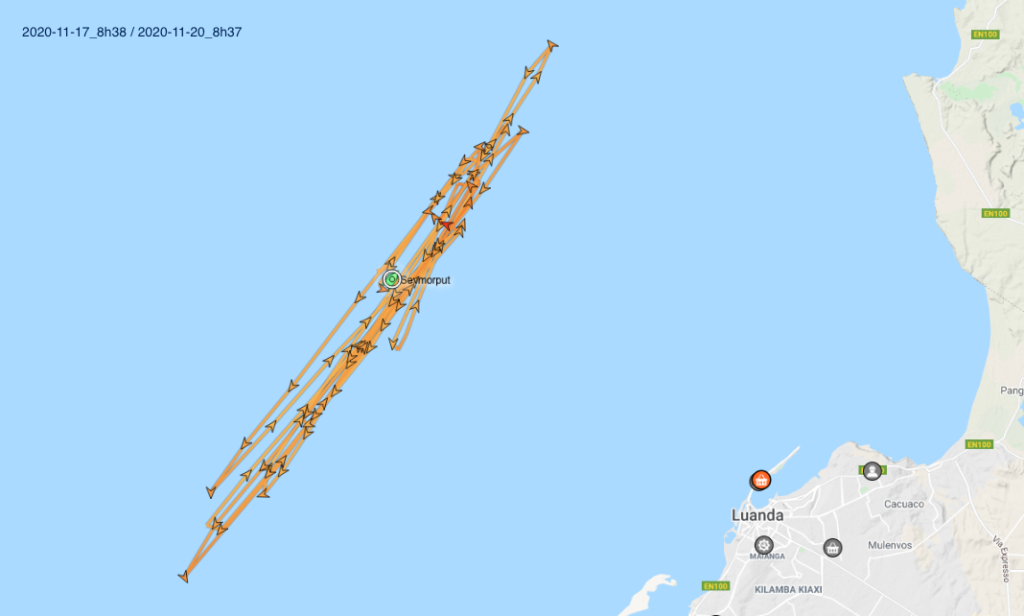 Sevmorput movements from 17th to 20th November 2020 © MarineTraffic screenshot
It is likely that the Russian authorities and Rosatom, the managing body of the nuclear facilities and the Sevmorput's owner, are currently seeking a port of refuge in Southern or Central Africa.
Alternatively, the Sevmorput could be towed to Murmansk in the Arctic, her port of departure. Sevmorput is a contraction for Severny Morskoy Put or "Northern Route".
The Sevmorput was to deliver 5000 tonnes of heavy loads and equipment to the Russian Progress station, and further destined for the extension of the Vostok station some 1400 km inland the Antarctic continent.
Between 2008 and 2012, the Sevmorput was laid up and destined for scrapping, but Rosatom finally decided in 2013 to extend her operation and renovate her. The vessel was to be refitted on a floating dock north of Murmansk. As this floating dock sank in 2018, the Sevmorput was directed to a shipyard in St Petersburg in 2019 for maintenance work, hull repair and replacement of the propeller shaft.
Ensuring safe access to the bay of the Progress station for this 260-metre-long atomic container ship would have been a challenge and an inconsiderate risk from maritime safety issue.
The Antarctic Treaty prohibits the dumping of nuclear waste on the continent and its coastal waters. In normal operation, the Sevmorput reactor containing 150 kg of enriched uranium is releasing into water fission products that can strictly speaking be considered as nuclear waste. Robin des Bois is surprised that Australia, France, the United States of America, China, South Africa, United Kingdom and the other signatories to the Treaty have not expressed their opposition or reservations about this intrusion of nuclear energy in Antarctica.
See on this subject : An atomic merchant ship is zigzagging towards Antarctica, 10 November 2020 (press release no. 1)

Imprimer cet article