Giraffes are in freefall. Their listing to CITES' Appendix II will be reviewed in Geneva this week. For hunters, zoos as well as animal skulls or exotic carpets lovers, giraffes are still freely accessible, without any administrative hassle.
Southern African countries contemplate asking for split-listing, which would mean a division between Northern African giraffes, who would be listed in Appendix II and Southern African giraffes, who wouldn't be listed.
For Robin des Bois and all the NGOs for animal protection represented in Geneva, giraffes are one and indivisible. They must be protected as a whole from liberal free trade and from smuggling. Listing giraffes in Appendix II will help African countries to fight the plague that are traps, the search at all costs for bushmeat and the limitation of their run by farmers' fences.
"Sweetheart I have some bad news to announce, there are only 80.000 of us left in Africa."
"On the Trail" n°6, p.98 (pdf – 5,9 Mo)
Laguiole hunting knife with a giraffe bone handle, 335 €
"On the Trail" n°11, p.98 (pdf – 6.9 Mo)
December 7, 2015
Burnley, Lancashire, England, United Kingdom
« A la Trace » n°21, p.102 (pdf – 4.7 Mo)
Mid-July 2018
South Africa
© Africland
"On the Trail" n°15, p.106 (pdf – 6 Mo)
October 11, 2016
Masai Mara, Narok County, Kenya
« A la Trace » n°20 p. 111 (pdf – 5 Mo)
End of March 2018
Meru Conservation Area, Kenya
To be published in "On the Trail n°24
March 27, 2019
Amboseli National Park, Kajiado County, Kenya
"On the Trail" n°18, p.108 (pdf – 4.3 Mo)
August 16, 2017
Kenya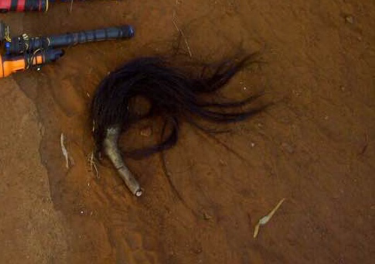 Two giraffes' heads and a tail to be  made into a fly swatter.. © DR
"On the Trail" n°18, p.108 (pdf – 4.3 Mo)
September 5, 2017
Kenya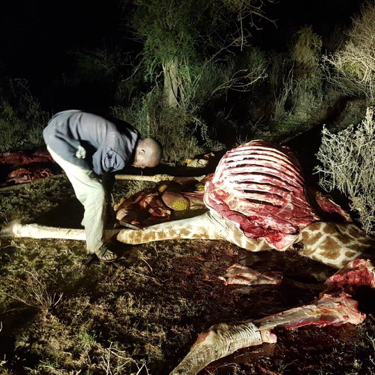 © DR

Imprimer cet article