After she was banned by Türkiye on August 26, 2022 and after she was banned by Brazil in October 2022, the NAeL Sao Paulo, ex-Foch, remained for three months off the port of Suape, State of Pernambuco, in the limit of the Brazilian territorial waters; a court injunction prohibits her to leave for the international waters.
On January 19, 2023, the end-of-life aircraft carrier under tow of the Dutch-flagged ALP Guard escaped, heading east, at a speed of 3/4 knots. She was briefly followed by the Brazilian Navy patrol boat NPA Macau P71. The patrol boat then sailed back to the port of Suape. The convoy is about to leave the Brazilian Exclusive Economic Zone.
In the wake of an incredible financial, technical and political imbroglio, the NAeL Sao Paulo, 266 meters long, 30,000 tons of steel including several hundred tons of toxic paints, asbestos, hydrocarbon residues and PCBs (polychlorinated biphenyls), has been banned for six months and does not find any port of refuge to be inspected and dismantled.
This is a first in the history of scrapping of military or civilian ships.
The fate of the NAeL Sao Paulo is in the hands of the Brazilian government, of the Marshall Islands-based MSK Maritime Services which won the auction bid in March 2021 on behalf of the Turkish yard Sök Denizcilik, and of the Dutch company ALP Maritime Services BV, owner of the tug ALP Guard. The ALP Guard took over from the ALP Centre on December 3, 2022.
MSK threatens to abandon the hull in the high seas.
In its January 19, 2023 press release, Ibama (Instituto Brasileiro do Meio Ambiente e dos Recursos Naturais Renováveis) says that asbestos and paints do not present any risk as long as the NAel Sao Paulo remains afloat. Ibama also says the only solution is to tow her to a EU-approved yard. The closest one to Brazil is located in Brownsville, Texas. Brazil's main practice is to send its ships for scrapping in the Indian subcontinent. The aircraft carrier Minas Gerais was scrapped in Alang in 2004.
Latin America lacks shipbreaking yards. A dry-dock is available in Suape to carry out these works that are essential for the protection of the environment and helpful for metal recycling.
The aircraft carrier NAeL Sao Paulo, ex-Foch built in Saint-Nazaire in 1957-1960, sistership of the Clemenceau, is in a blind spot. Unless an express solution can be found in the coming days or weeks by Brazil or eventually the European diplomacy, the aircraft carrier's shipbreaking yard could be indeed the bottom of the Atlantic Ocean.
To be continued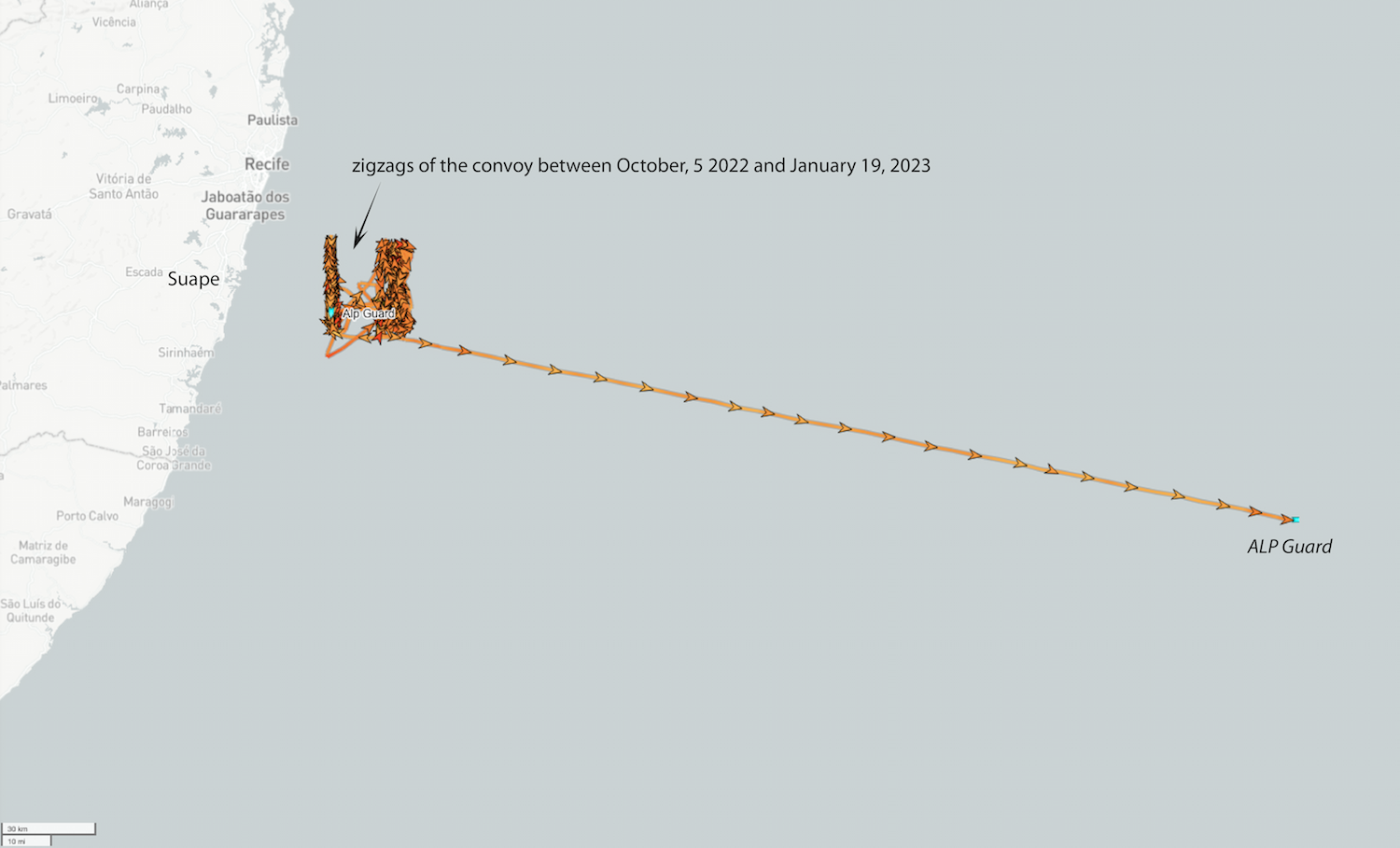 Convoy ALP Guard / NAeL Sao Paulo, January 20, 2023, 2 p.m. utc
Click to zoom
Other press releases on the ex-Foch:
The ex-Foch, twin of the Clemenceau, on her way to the scrapyard in Türkiye, August 25, 2022
What is the future for the Sao Paulo, ex-Foch?, September 2, 2022
The aircraft carrier Sao Paulo is banned in Brazil!, October 7, 2022
Update – Aircraft carrier Sao Paulo, ex-Foch, January 21, 2023
Scuttling of the Sao Paulo : pollution has a future, February 4, 2023
See also Fuego!, September 6, 2018 about the scuttling of the former corvette Alfonso Ceirquer off Madeira, Portugal (with video)

Imprimer cet article