For exporting its livestock, the European Union has, through the Directorate-General for Health and Food Safety, approved the Nader A and the Janay, two substandard ships that accumulate technical, social and environmental infringements. Behind the Switzerland-registered shell company Abdin M in and behind the Marshall Islands-registered shell company Princess Maya Shipping, the real owner of these two substandard ships is AMJ Marine Services, 1195, Old Saida Road, Choueifat (Lebanon).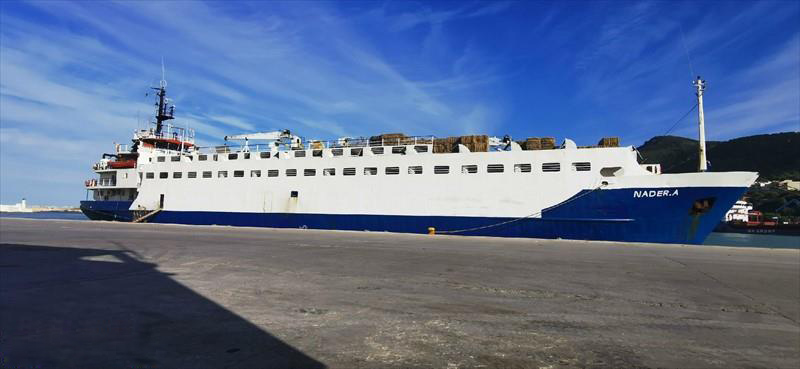 Nader A, January 2021, Tenes (Algeria). © Tenes Maritime
At sea, white often masks rust
Nader-A (ex-Youzarsif H, ex-Uni K, ex-Vima Alfa, ex-Lem Alfa, ex-Duke, ex-Dana Iberia, ex-Commodore Clipper, ex-Hamburg, ex-Jan Kahrs). IMO 7611547. Ex-general cargo ship converted in 2013 at the age of 36. Length 81 m. Built in 1977 in Hamburg (Germany) by Norderwerft. 46 years old.
Detained in Sète (France) in 2015 and 2016, in Midia (Romania) in 2017 and in Rasa (Croatia) in 2021. In May 2017, she was banned from Paris MoU ports for three months. Between 2018 and 2022, she totalled 1 detention et 63 deficiencies in the ports of Algiers (Algeria), Aqaba (Jordan), Alexandria (Egypt), Midia (Romania), Rasa (Croatia) and Sète (France).
On September 5, 2022, coming from Sète, she was turned away from Algiers with 787 slaughter cattle because of a dispute over three young bulls vaccinated against infectious bovine rhinotracheitis. On September 19, back to Sète, the ANSES (the French Agency for Food, Environmental and Occupational Health & Safety) declared her as a potential source of foot and mouth disease requiring radical disinfection measures.
The Nader A is approved for livestock transport by the European Union until March 9, 2023.
She left Famagousta (Turkish Republic of Northern Cyprus) where she had arrived on January 17, 2023 coming from Misurata (Libya) and is expected at Sète (France) this monday evening, February 20.
Janay docked at Carthagena (Spain), March 2019. © Salvador Garcia Garcia
Janay (ex-Mara, ex-Justo). OMI 7015509. Ex-general cargo ship converted in 2011 at the age of 41. Length 74 m. Built in 1970 in Trondheim (Norway) by Orens MV; lengthened in 1979 from 59 to 74 m. 53 years old. The Janay is the record holder, for all categories, with regard technical, social and environmental infringements with 132 deficiencies between 2019 and 2022. She was detained 18 times in 1998 in Rotterdam (Netherlands), in 2004 in Augusta (Italy), in 2005 in Koper (Slovenia), in 2007 twice in Valletta (Malta) then in Rades (Tunisia), in 2008 again in Koper then in Porto Nogaro (Italy), Catania (Italy), Valletta again and Rijeka (Croatia), in 2009 in Monfalcone (Italy) and Alexandria (Egypt), in 2010 in Mersin (Turkey), in 2013 and 2014 in Kalymnos (Greece), in 2019 in Batumi (Georgia) and in 2021 in Midia (Romania). She was approved by the European Union until July 26, 2022. Her last ports of call in Europe were Kalymnos (Greece) and Sulina (Romania). Since then, she was spotted in the non European ports of Jeddah (Saudi Arabia), Beirut (Lebanon), Digna (Sudan), Suez (Egypt), Port Said (Egypt). According to her latest AIS signal, she was located in the Red Sea, in Suez (Egypt).
Behind the Honduras-registered shell company Amin Shipping, AMJ Marine Services is also the multi-defaulting owner of the Onda. The Onda is one of the 106 substandard ships identified by Robin des Bois in "Shipbreaking" # 59 published in May 2020.
Onda (ex-Trader, ex-Kuki Boy, ex-Elisabeth Boye). IMO 8912467. 30 years old. Length 77 m. Unknown flag since 2018. Classification society Det Norske Veritas/Germanischer Lloyd. Built in 1990 in Soby (Denmark) by Soby M&S. Owned by Amin Shipping Co c/o AMJ Marine Services (Lebanon). Detained in 2001 in Grundartangi (Iceland), in 2002 in Aveiro (Portugal) and Glasgow (Scotland, United Kingdom), in 2004 in Novorossiysk (Russia), in 2014 in La Rochelle (France) and Setubal (Portugal), in 2015 twice in Novorossiysk again, in 2016 in Chanea (Greece) and in 2019 in Tin Can Island (Nigeria). Banned from European ports in March 2016 for three months.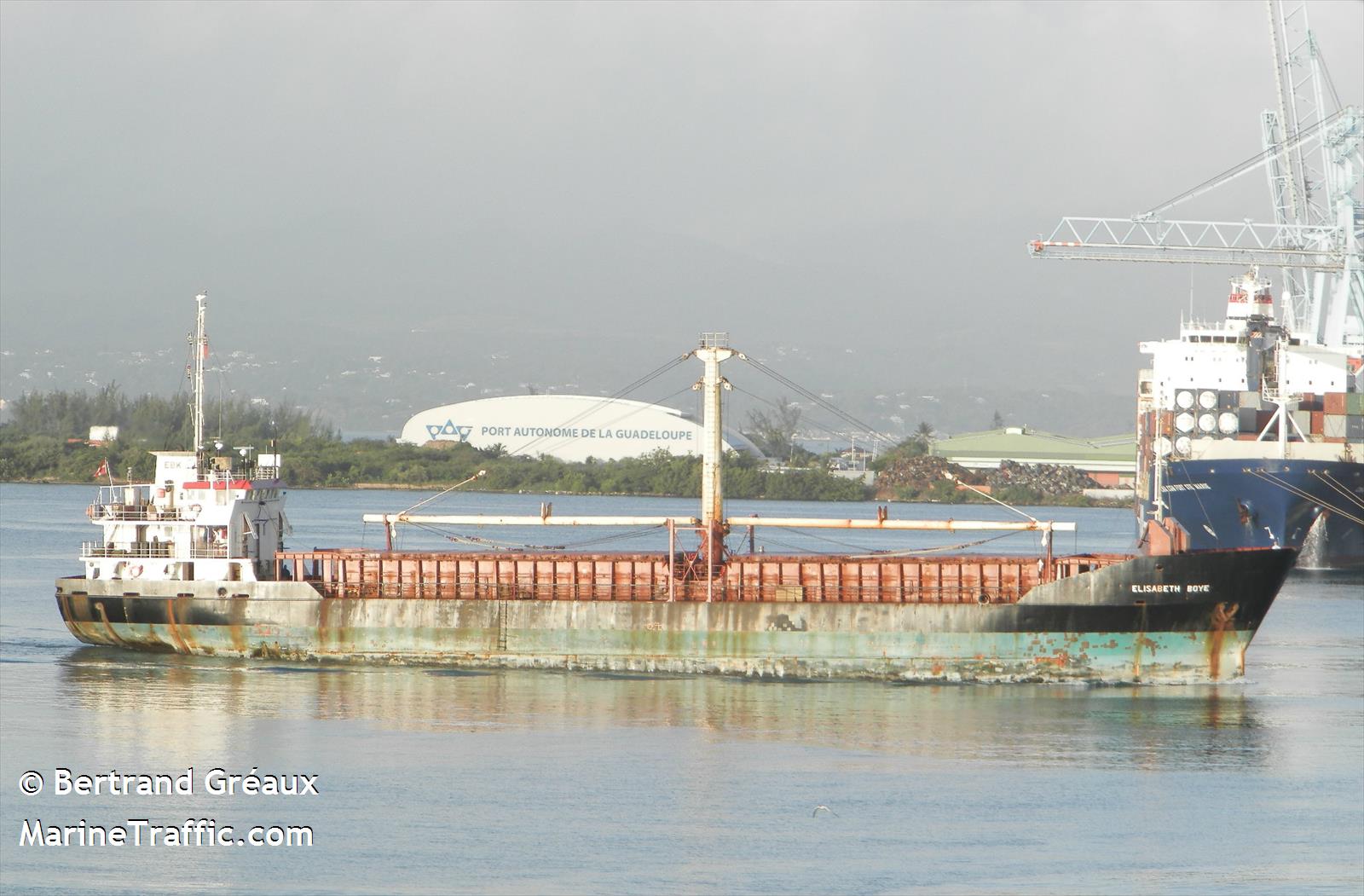 Elisabeth Boye, Pointe-à-Pitre (Guadeloupe, France), February 2013 © Bertrand Gréaux
Banned from European ports and targeted as a high-risk ship, the Onda retreated from 2017 onward to West Africa. While doing business with European Union livestock in the Mediterranean, AMJ Marine Services multiplied crew abandonments and unpaid salary arrears in Africa. First with five Indian seafarers in 2018 in the port of Tiko in Cameroon. Under threats and intimidation from AMJ Marine Services and despite contacts with the Indian consulates in Cameroon and Nigeria and the support of the ITF (International Transport Workers' Federation), they had no other solution than to disembark after a few months.
A new crew of seven men was hired by AMJ Marine Services. The Onda was engaged for a few months in some unknown traffic and again, the crew was abandoned with arrears, this time at anchorage off Douala. The Covid 19 pandemic then began. The shipowner explained his inaction by logistical difficulties and made promises that were never kept. Four crewmen from Cameroon and Sao Tome and Principe remained on board. The ITF once again came to their support. The Onda has not had a classification society or insurance for three to four years. In February 2021, once again, the seafarers disembarked after receiving a small part of their salary arrears. Although her official status in the Equasis database has been "laid-up" since 2020, the Onda resumed trading in West Africa with a new crew. She was deflagged from Togo to Guyana, but this registration was usurped. In the framework of the Memorandum of Abuja, she was inspected in the ports of Warri (Nigeria, March 9, 2021), Takoradi (Ghana, March 22, 2021) and Freetown (Sierra Leone, October 2021). 10 deficiencies were reported.
In December 2021, the Onda was again at anchorage, this time in Dakar waiting area (Senegal). She was urgently in need of structural repairs.
In February  2022, the Senegalese inspectors reported 22 deficiencies including the unavailability of life saving appliances and placed the ship under arrrest. In other words the Onda was detained. The port of Dakar refused her towage and docking in a protected area.
In July 2022, the Lebanese shipowner claimed to be in financial difficulties because of the ongoing banking reform in Lebanon. The crew of the Onda was once again abandoned; four seafarers from Cameroon, Lebanon, Nigeria and Syria remained on board with little to eat and many unpaid salaries. AMJ Marine Services said it wanted to sell the ship to pay them. No one believes this, as they have already done this to previous crews.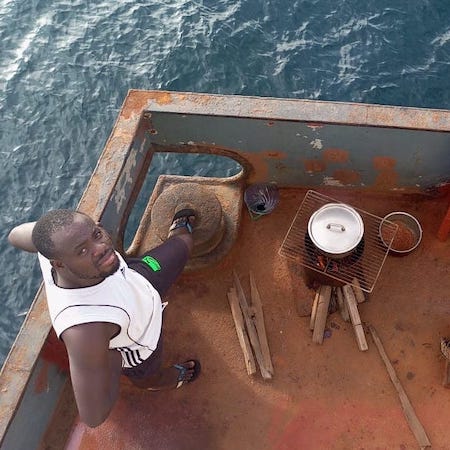 August 12, 2022, on board of the Onda. © ITF
On February 6, 2023, the Senegalese court, on request of the ITF and of the Onda crew, authorized the seizure of the ship as long as the shipowner did not pay the 84,000 US$ in due wages. The next step could be the auction of the ship which, in any case, will have no other possible fate than demolition.

Imprimer cet article