Press release CITES CoP19 n°1
The 19th Conference of the Parties of the Convention on International Trade in Endangered Species of Wild Fauna and Flora (CITES) open today, Monday, November 14, in Panama City, the capital city of Panama, and will end on Friday, November 25. The global legal wildlife trade is worth an annual minimum 100 billion dollars. Trafficking fuelled by poaching and smuggling brings in between 7 billion and 23 billion US$ each year to international mafias.
The market for terrestrial and marine wildlife, woods, flowers and roots is in full swing and has benefited from the Covid-19 pandemic. Global demand for songbirds, turtles, ornamental fish is on the rise. In lockdown, middle and upper classes both needed pets and had, despite rising prices, sufficient financial means to buy them via the Internet and social networks. The same is true for animal and plant by-products deemed antidepressants, invigorating or aphrodisiacs, according to opportunely disseminated rumors.
Over 180 States party to CITES are represented in Panama. The Paris-based NGO Robin des Bois (Robin Hood) has been an observer to CITES for 33 years. The information and analysis provided by its quarterly bulletin "On the Trail" on poaching and smuggling are referenced in the proposals to list in Appendix II (regulation of international trade) 6 species of musk turtles, 3 species of American softshell turtles, the desert horned lizard and the timber rattlesnake, as well as in the proposal to suspend all trade of hippopotamus by-products especially ivories and skin. The proposal to list in Appendix II sea cucumbers of the Thelenota genus (including the pineapple sea cucumber) made by the European Union, Seychelles and the United States of America is a logical extension to the listing of 3 species of teatfish sea cucumber species supported and argued by Robin des Bois at the 18th CITES Conference in Geneva.
Brazilwood (Paubrasilia echinata)
Brazil is proposing the listing of Brazilwood in Appendix I (international trade ban). This would apply to all parts and products of Brazilwood, including bows of musical instruments, except musical instruments and their parts composing travelling orchestras and solo musicians carrying musical passports. Brazilwood has been listed in Appendix II since 2007 with an exemption for bows. Listing Brazilwood in CITES Appendix I is intended to reduce pressure on the last native populations of the species. Successive governments, IBAMA (Instituto Brasileiro do Meio Ambiente e dos Recursos Naturais Renováveis) and Brazilian NGOs deplore the persistent illegal exploitation of these medium-sized trees from the Atlantic forests for the manufacture of bows for violins, violas, cellos and double basses. French luthiers in the second half of the 18th century considered Brazilwood to be ideal and irreplaceable for stringed instrument bows. According to the 20th century Larousse dictionary, "the Tourte family was to bows what Stradivarius was to violins". The bow is made of a Brazilwood stick and by tradition horsehair rubbed with rosin. More than 300 years later, the Brazilwood is in danger of extinction. The United States, all European Union countries, Canada, China, Australia, Switzerland, Argentina and Hong Kong are the main legal or illegal importers of bow and bow blanks. The United States, Japan, Belgium, Germany, the Netherlands, Portugal and France are the main importers of Brazilwood raw material. In 2017, 400 illegally sourced bow blanks were seized at Guarulhos airport, State of Sao Paulo. They were bound for France.
Seizure of 400 bow blanks sent by parcel post to France in 2017.
Photo taken from Brazil's proposal
In 2019, 102 illegally sourced Brazilwood logs were seized in Aracruz, State of Espírito Santo.
In 2018, 20,747 illegally sourced bow blanks were seized in Joao Neiva, Espírito Santo.
In April 2022, 120 bow blanks and 114 bows, all illegally sourced, were seized on their way to England at Guarulhos airport.
White-rumped shama (Kittacincla malabarica)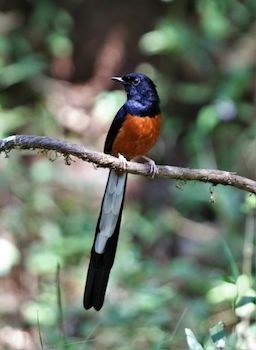 © Himanshu Pandav
The white-rumped shama is a good singer and in the forests of 15 Asian countries it imitates the songs of other forest tenors. It is increasingly popular as a pet and sought after as a competitor in singing contests open to betting. As early as 1993 and again in 2004, Nash and Shepherd, experts on Asian song passerines, recommended listing the white-rumped shama in Appendix I or II. In Indonesia, the largest consumer of white-rumped shamas in cages, the species was listed as a protected species in 2018, but after a few weeks of protests by bird-catchers, song contest organisers and so-called enthusiasts, it was removed from the list. In 2019, the plenary meeting of the Asian songbird trade specialist group concluded that most Southeast Asian populations should be considered vulnerable, endangered, or even extinct in the wild. The IUCN has classified the species as Least Concern for too long on the basis that its range covers both mainland and Southeast Asia. Between January 2019 and May 2022, at least 40,000 live white-rumped shamas were seized at the borders of Thailand, Malaysia, Singapore, Viet Nam and Cambodia without veterinary certificates and sender and recipient datas. A significant number of white-rumped shamas mixed with Oriental magpie-robins are shipped by sea from Malaysia to Indonesia. Malaysia and Singapore propose the listing of the white-rumped shama in Appendix II. Both countries believe and demonstrate that at the past, current and predicted rate of trapping, the species and subspecies would be threatened with extinction in the near future if trafficking is not regulated internationally.
Straw-headed bulbul (Pycnonotus zeylanicus)
Based on the same reasons, but aggravated by a range currently limited to Singapore, a few islets in Peninsular Malaysia, Borneo and Brunei, where only 5 individuals are thought to remain, Malaysia, Singapore and the United States of America are proposing to upgrade the straw-headed bulbul from Appendix II to Appendix I.
Freshwater stingrays
Brazil proposes the listing of freshwater stingrays, the stars of the international ornamental fish market, in Appendix II. The Potamotrygon wallacei and Potamotrygon leopoldi endemic to the Rio Negro, Rio Xingu, Iriri and Curua rivers in the Amazon basin sell for between 130 and 1,000 € per specimen on the international market. Brazil has prohibited their export since 2017 but smugglers declare them under false designations. To counter this method, Brazil is requesting the inclusion of 7 look-alike species of the Potamotrygon genus in Appendix II. Buyers are located in Asia, Europe (especially Germany, the Netherlands and Switzerland) and the United States of America. Wholesalers and retailers are always looking for new "models" to sell or to hybridize in farms that are constantly being replenished with breeding stock plundered from rivers. Fishing areas are expanding in search of "Black Diamonds", "White Diamonds" and "Super Whites". Brazil is making efforts to counter poaching and smuggling and regularly seizes batches of freshwater stingrays at international airports or others heading by road to the United States via Colombia. Brazil is now calling on international cooperation. The position of the 27 European Union countries has so far been negative. It is "unclear whether the listing would help to fight illegal trade" it says. The powerful aquarium lobby is wiggling around in the EU's bowl.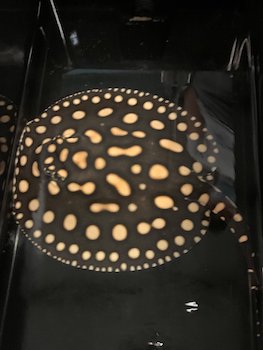 Seizure in Montgomery County,
State of Texas, United States of America, August 2021 (see "On the Trail" n°33 p.222).
© TPWD
Zebra pleco (Hypancistrus zebra)
Endemic to the Rio Xingu in the Amazon basin, a zebra pleco retails for 400 € in aquarium shops worldwide. It has been banned from capture, transport and trade in Brazil since 2005 and listed as critically endangered since 2014. Brazil wants to ban all international trade (Appendix I). Fished only for its ornamental attributes, it is now also affected by the Belo Monte hydroelectric dam. Zebra plecos live in rocky crevices and defend their territory vigorously. The males guard the eggs laid in small cavities in the rocks. About 10,000 zebra plecos are believed to be smuggled through Colombia and Peru each month to supply the international trade. Opposition from Indonesia is to be expected; it is keen to protect its exports of farmed zebra plecos and, beyond that, Banggai cardinalfish (Pterapogon kauderni). Here again, the EU is more than reluctant. It could align itself with Indonesia, an essential partner for the import of palm oil, not to mention Liquefied Natural Gas. However, it "could support" an Appendix II listing with a zero quota export for wild specimens, one of its favourite escapes much appreciated by the trade sector.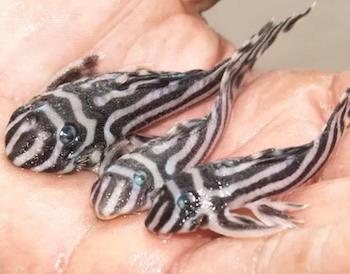 Seizure at Manaus International Airport,
Amazonas State, Brazil, November 2017 (see "On the Trail" n°19 p.10-11)
© PF
Sharks
Sharks are being put through the wringer. At each CITES plenary since 2007, species are listed in Appendix II in dribs and drabs. For the requiem sharks of the Carcharhinidae family, it is a sacred union from Israel to Syria, via Panama, Sri Lanka, the European Union and the United Kingdom. Their little fins are big business. Perhaps all sharks will finally be listed in Appendix I when they are extinct.
Hippopotamus (Hippopotamus amphibius)
Raising the hippopotamus from Appendix II to Appendix I is not going to be easy. They weigh 3 tonnes and, in this task, the WWF is not to be relied upon. It whispers in the ears of the European Union. Appendix I "would unjustifiably preclude those countries with large populations from deriving benefits from sustainable international trade" in ivory and other parts of the hippo and it "would not address the main threats to the species" in West and Central Africa. These aforementioned main causes are the degradation of natural habitats, human-wildlife conflicts and the demand for wild meat. All wild mammals and reptiles are suffering from these pressures and if WWF's position was globally applied, CITES with its Appendices should just take a hike and close discussions. The truth is that hippo ivory is becoming more and more popular, that it sells for between 300 and 400 €/kg on the international black market, that throughout Africa hippos are increasingly poached for their teeth, that poaching a hippo is much less criminally risky than poaching an elephant, and that customs around the world are seizing hippo incisors and canines, tails, skin gun cases, skins and skulls without all the applicable Appendix II certificates.
African elephant (Loxodonta africana)
The logic of protection and the headlong rush to extinction are at odds.
Burkina Faso, Equatorial Guinea, Mali and Senegal are proposing the listing of all African elephants in Appendix I as a continuation of the Appendix I listing of all Asian elephants in 1975. Issue 34 of "On the Trail" published on October 25 demonstrates that pan-African poaching and smuggling of ivory and other elephant parts is active and inventive. Singapore seized 430 worked ivories in a consignment of bird cages from Africa in September 2021. Zambia seized 193 kg of elephant skins in October 2021 at the border with Zimbabwe. Ivory smuggling between Africa and Asia was put on pause during Covid-19. Raw ivory travels by sea, but the resumption of trafficking in 2022 is undeniable. 456 kg of raw ivory (with 6 tonnes of pangolin scales) were seized in Viet Nam in January. Six tonnes of raw ivory (with 29 kg of rhino horns and presumed farmed tiger canines) were seized in Malaysia in July. With the seizure of 938 kg of ivory in November 2021 and 1,500 kg in May 2022, the Democratic Republic of the Congo confirms its major role as a reservoir of illegal raw ivory. Robin des Bois, the Franz Weber Foundation, the Brigitte Bardot Foundation and the other 80 NGO members of the Species Survival Network (SSN) support the proposal. Assuming it is approved by 2/3 of the countries present in Panama, it is important to note that the export of "sport" hunting trophies would still be allowed subject to the approval of the recipient countries. Therefore the countries of southern Africa would not be deprived of the resources of hunting tourism. Robin des Bois deplores the fact that France has not actively supported this proposal within the European Union.
Zimbabwe goes against Burkina Faso, Equatorial Guinea, Mali and Senegal. It proposes amendments to the Appendix II listing of the elephant populations of Botswana, Namibia, South Africa and Zimbabwe that would allow for the international sale of hides, hair and "registered government-owned ivory stocks" exclusively to trading partners with national legislation and control measures that ensure that purchased ivory is not re-exported.
This proposal as a whole is dangerous for elephants, all African and Asian elephants. Ivory, hair and hides sold under the seal of legality would somehow be infiltrated by ivory, hair and hides marketed under the seal of poaching and smuggling.
This proposal makes no sense as the import of raw or carved ivory is banned in China, the EU, the USA and many other countries and sub-regions. Perhaps only Japan could take a chance, except that its domestic market is declining and the main outlet for Japanese ivory is smuggling to China.
"It is time to remove the anomaly of having 256,000 elephants on Appendix II being treated as if they are on Appendix I, against the wishes of the people who own them and who have the most to lose or gain from them," says Zimbabwe. In fact, Botswana claims 131,626 elephants, Namibia 22,754, South Africa 18,841 and Zimbabwe 82,630 referring to the 2016 African Elephant Status Report based on random guesses and estimates that do not consider the trans-boundary migration of elephants between northern Botswana, south-western Zambia, south-eastern Angola and north-western Zimbabwe, i.e. the Kavango-Zambezi Transfrontier Conservation Area also known as KAZA. KAZA covers 550,000 km2. An elephant can be in Zimbabwe in the morning, in Zambia in the evening and a few days later in Namibia. Elephant statistics in KAZA can be distorted by double or even triple counting. Elephants are deceptive.
Glass frogs (Centrolenidae)
They are the new pet gadgets. The trend is fast and persistent. In the United States, 13 specimens were imported in 2016 and 5,744 in 2021, not including the smuggled ones. Native to Central and tropical South America, glass frogs are going to the scrap heap. All 154 species are threatened. This proposal is presented by Costa Rica, Argentina, Brazil, Ecuador, El Salvador, Panama, Peru, the Dominican Republic, the United States of America, Côte d'Ivoire, Gabon, Guinea, Niger and Togo. The European Union is against this proposal, and risks making it fail as it did in 2019.
More Frogs
These ones are not pets. They are caught and killed for their legs mainly in Indonesia and Turkey, skinned, mutilated, frozen, irradiated and served hot. Dr. Sandra Altherr, Pro Wildlife, and Charlotte Nithart, Robin des Bois, are organising a side event at the CITES meeting on this environmental, food and trade scandal on November 22 at 7 p.m. with Turkish, German and French experts. See the "Deadly Dish" report on imports of frogs' legs from Asia and Eastern Europe into the EU.
Access to all issues of "On the Trail", Robin des Bois' quarterly information and analysis bulletin on poaching and smuggling of endangered animals, published with the support of the Franz Weber Foundation and the Brigitte Bardot Foundation.
All other Robin des Bois' press releases on this CITES in Panama:
"An arrk and 9 tuned notes", (CITES CoP19 n°5), November 25, 2022
"CITES : 11 ups and one down" (CITES CoP19 n°5), November 23, 2022
"The ups and downs of CITES" (CITES CoP19 n°4), November 21, 2022
"Good news for macaques" (CoP19 n°3), November 18, 2022
"Good day for trees", (CITES CoP19 n°2), November 18, 2022
"Panama, the great sellout of wild animals and plants" (CITES CoP19 n°1), November 14, 2022

Imprimer cet article