MOL Comfort disaster (follow up)
Information notice N°5
The MOL Competence, sister ship of the giant container ship that snapped in two in the Arabian Sea on June 17, is still in the vicinity of the port of Le Havre, France. She is looping around in circles.
At the same time, as a precautionary measure, the ship-owner Mitsui OSK Lines (MOL) has decided to strengthen the hull structure of the container ships of the same serie as soon as possible. The ships will be temporarily taken out of service and the rotations of the MOL container ships will obviously be rearranged
Lire la suite
MOL Comfort disaster (follow up)
The fore part of MOL Comfort is approaching the Indian coast. If she continues on her trajectory, she could ground south of Mumbai by the end of the week. The fore part of the wreck travels a hundred kilometers a day. The aft part moves more slowly – about 75 km / day – but in the same direction. Towing operations have not begun.
On June 20, Robin des Bois asked all involved parties, Mitsui Osk Line (MOL), the IMO, the European Union, the countries bordering the Arabian Sea and France, to immobilize the sister-ships of the MOL Comfort to identify the causes of the currently unexplained accident.
Lire la suite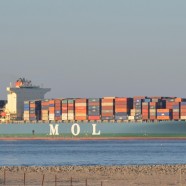 MOL Comfort disaster
Subject : MOL Competence, shipwreck in the Bay of the Seine or in the Bay of Biscay?
This container ship is dangerous. Built at Nagasaki in 2008, she is one of the sister ships of the MOL Comfort that was fractured in two parts on June 17 in the Arabian Sea for unknown reasons.
Lire la suite