According to the Northwest Evening Mail, the Pacific Sandpiper is to be demolished in Belgium. The Pacific Sandpiper belongs to the English ship company, Pacific Nuclear Transport Ltd (PNTL), and was launched in 1985. She measures 104 meters long with a light weight of 3,950 tons. This floating nuclear waste, the Pacific Sandpiper, transported a total of 500 radioactive spent fuel containers throughout her career. These shipments were operated within the scope of reprocessing contracts with the Japanese electricity producing companies TEPCO and Kansaï, from Japan to France for Cogema-AREVA and from Japan to the UK for BNFL (British Nuclear Fuels Limited). In January 2004, the ship also transported vitrified nuclear waste, which originated from the AREVA factory in La Hague, (France) between Cherbourg and Japan.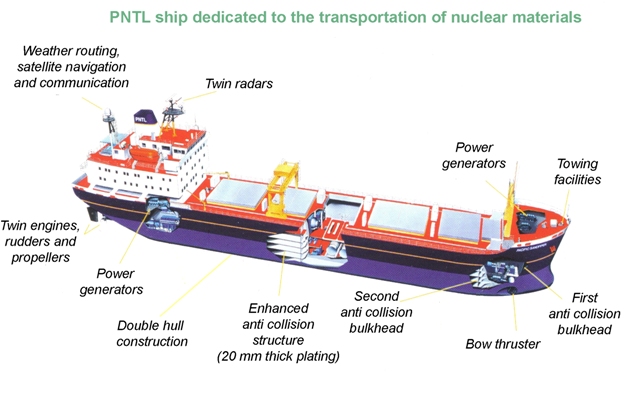 Sectional view of the Pacific Sandpiper. © BNFL – COGEMA – Overseas Reprocessing Committee. Japan
Before her afloat demolition in Ghent, Belgium, it is scheduled that the ship undergo a cleaning of radioactive waste in the Netherlands: PNTL discreetly called this stage a "deep cleaning." While waiting for a permanent disposal, the radioactive metals extracted from the Pacific Sandpiper will be temporarily stored at the Covra (Centrale Organisatie Voor Radioactief Afval) site in Vlissingen, The Netherlands.
However, in order to be towed in Belgium, the double-hull ship must maintain her integrity and her buoyancy. This excludes therefore a complete radiological screening and, if necessary, the decontamination of the ship bottom.
In 2010, another PNTL ship, the European Shearwater (1), which also transported radioactive spent fuel between France and the United Kingdom, was decontaminated and dismantled in the Netherlands. To date, four other PNTL specialized ships have also been dismantled. The destinations of those four ships have not been revealed.
Robin des Bois' Opinion.
It is good news that the Pacific Sandpiper will be demolished in Europe; however this fact by itself does not guarantee the security of the operation. The entire demolition plan should be communicated under the responsibility of the Nuclear Safeguards Directorate of the European Commission and the English, French, Dutch and Belgian Nuclear Safety Authorities. The radiological safety of the whole operation should be guaranteed for the workers, the public and the environment; a threshold limit value should also be established concerning the second fusion of metals or metallic scraps contaminated by nuclear transportation which the Pacific Sandpiper carried out for over 30 years.
___________
(1) Link to "Shipbreaking.com" #18 (pdf)

Imprimer cet article