Updated March 4, 2021
Since the late afternoon of March 2, the Elbeik has been sailing back and forth off the south coast of Crete. On the morning of Thursday, March 4, the Elbeik resumed her course. The destination Cartagena is cancelled or postponed. The Elbeik is now heading for Piraeus (Greece). Arrival planned for tomorrow, March 5.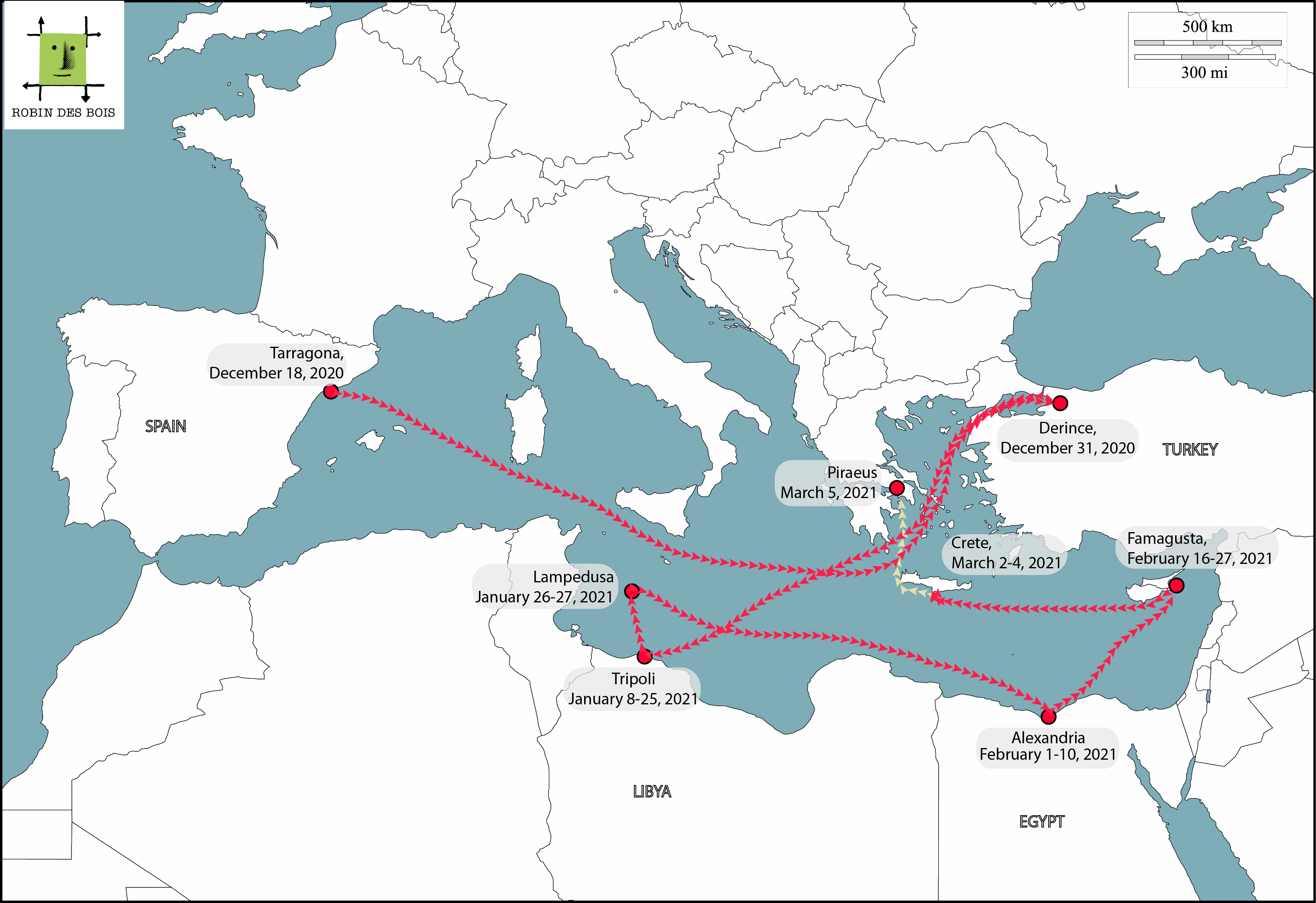 * * * * *
The livestock carrier vessel Elbeik, under the flag of Togo, is sailing towards Spain. She should arrive in Cartagena on March 8. She is today off the coast of Crete. She had left Tarragona, the other Spanish port specialised in the livestock traffic, in mid-December 2020 with 1,776 calves on board, bound for Derince in Turkey. Due to suspicions of bluetongue disease, her access to the port was forbidden by the Turkish veterinary authorities. The Elbeik attempted to unload her "goods" in Libya. She remained at anchor off Tripoli from January 8 to 25, 2021. She left Libyan waters and was stationed off the Italian island of Lampedusa for two days before sailing east to Egypt. After calling Alexandria in early February and after that floating around in the waiting area, the Elbeik headed for Cyprus. She anchored off Famagusta from mid-February. It is believed fodder was loaded for the animals on this occasion. The Elbeik left Cypriot waters at the end of February.
She had 1,776 calves at the start, how many will survive at the end of 81 days of sailing?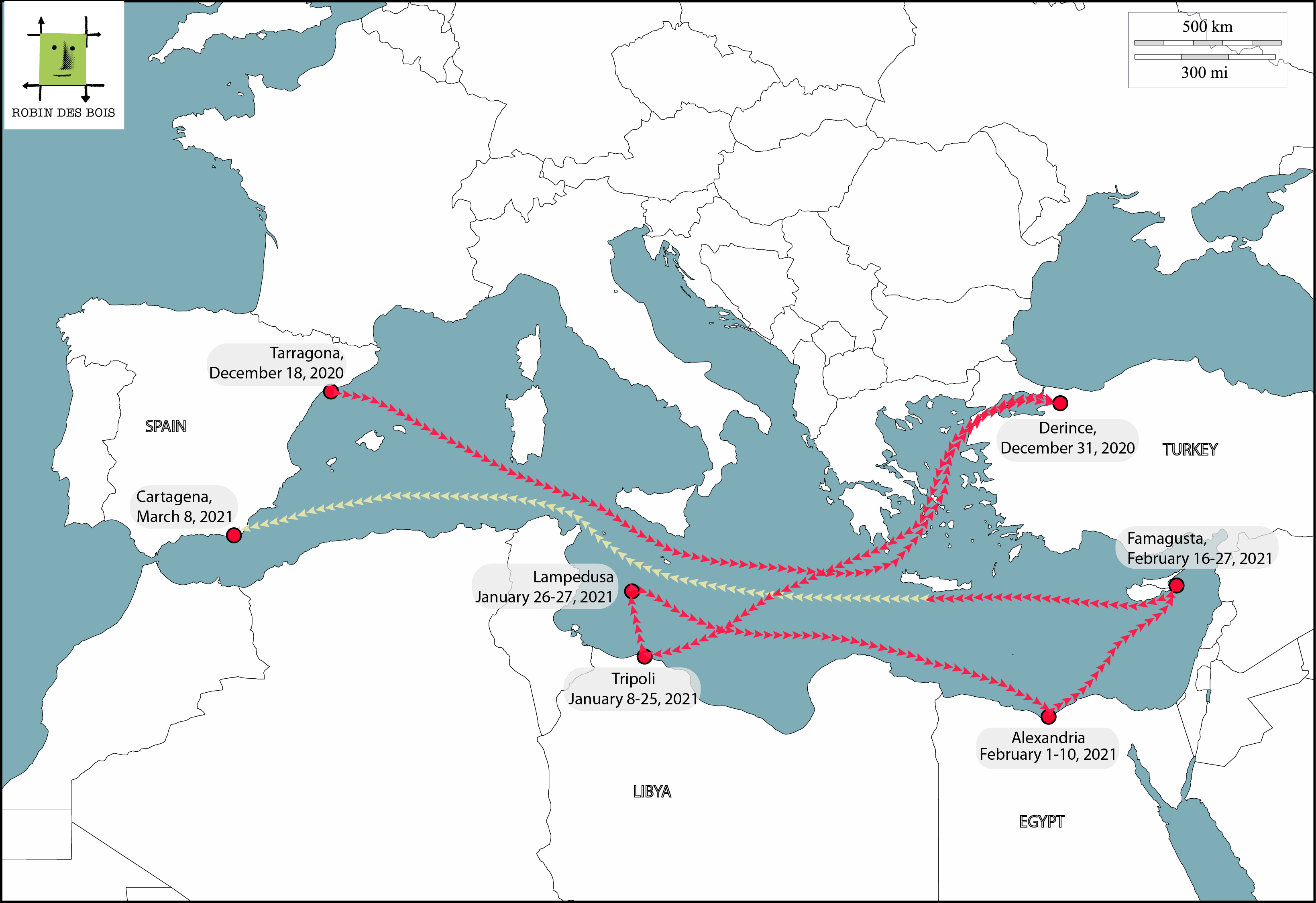 The Elbeik's journey in the Mediterranean, December 2020-March 2021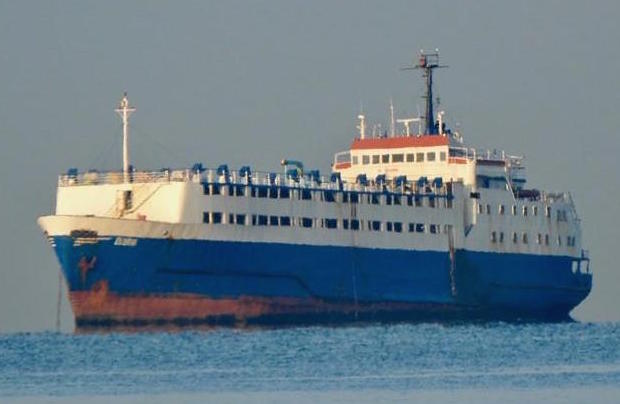 Elbeik, January 10, 2020, Koper (Slovenia). © Marjan Stropnik
Elbeik (ex-Delta 1, ex-Aljaghbeir I, ex-Al Mahmoud 4, ex-Abdulrazak, ex-Jihad II, ex-Tyro). IMO 6718427. Former general cargo vessel converted into a livestock carrier in 1994 at the age of 27. Built in 1967 in Krimpen a/d Ijssel (Netherlands) by Van der Giessen-de Noord. 54 years old.
9 detentions: in 2003 in Constanta (Romania), in 2006 in Midia (Romania) and Port Said (Egypt), in 2013 in Braila (Romania) and again in Midia, in 2015 again in Midia and Constanta, in 2017 in Alexandria (Egypt) and in 2020 in Koper (Slovenia). Banned from European ports in March 2015 for a period of 3 months.
Bluetongue disease inflicted the same ordeal on the 895 calves aboard the Karim Allah and her crew. The unloading of the cattle had been refused for health reasons in Turkey and then in Libya. The ship and her "goods" had then been refused access by Tunisia to its territorial waters. After a month of roaming off Sicily and Sardinia, the Karim Allah returned to Cartagena, her port of departure. She has been in port since yesterday after having been forced to spend 8 days' quarantine in the waiting area. Her captain says that "several" young bulls died during the journey. They were cut up and thrown into the sea. The survivors are in a state of starvation. The Spanish vets, instead of talking about immediate slaughter concerning them, are talking instead about euthanasia.
The Spanish authorities took a risk by exporting cattle to the eastern Mediterranean in December 2020. Outbreaks of bluetongue had been identified for some time in Spain and in this period of tension and global health uncertainty, it was foreseeable that importing countries would be vigilant about animal health and contagion risks.
In spite of their age, the Elbeik and the Karim Allah have a special approval from the European Union for livestock trafficking.
See also about maritime transport of livestock (only in French):
"Sète, le port qui ne pense pas bête", November 26, 2018
"Midia, Roumanie. Noyade de plus de 14.000 moutons", November 29, 2019
"42 marins et 5867 vaches périssent en mer", September 4, 2020

Imprimer cet article