The maritime industrial area will cover 50 km2 and will be spiked with 75 monsters, iron and non recyclable composite made and 150 m in wingspan. They will peak 180 m above sea level. The seabed will be drilled by underpinning stakes. The marine sediments will be occupied by a mess of electrical wires. Each machine will weigh at least 1500 tonnes. No wind turbine of this type and power – 6 MW – has ever proved in real conditions its supporting capacity and productivity.
These outrageous projects of construction of wind turbine parks off Noirmoutier, Saint-Nazaire, Saint-Brieuc, D-Day beaches, Fécamp and Le Tréport are promoted and operated by Alstom, Areva and EDF, the very same players which have imposed the nuclear miracle upon France. Caution is the order of the day.
The maritime landscapes are part of the heritage, wealth and attractiveness of France. Environmental, technological and financial risks are underestimated. The maritime safety is neglected.
Faced with the flood of far-fetched promises, the technical and financial uncertainties and the race towards gigantism, Robin des Bois demands a pause and an objective reconsideration of the implementation of marine energies.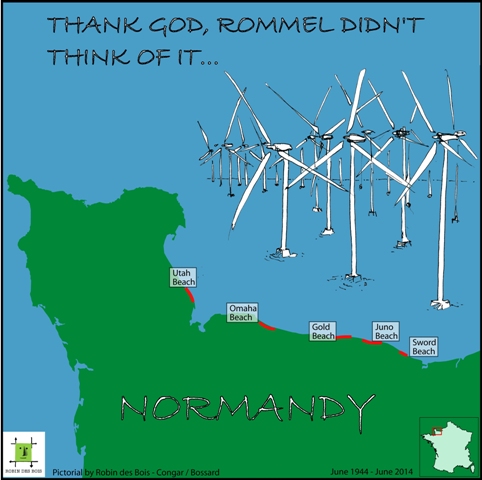 Imprimer cet article