Press release n°4
English version: December 15, 2020
The last of the nuclear-powered cargo ships, the Russian Sevmorput, is in breakdown (see previous press releases*). On her way to Antarctica to unload heavy loads for the extension of the Vostok research station, the Sevmorput was forced to turn back. Victim of propeller or propeller shaft damage, she returns to St. Petersburg at reduced speed after having been wandering round and round for several weeks off the coast of Angola and Congo Brazzaville. Angola and South Africa were reportedly opposed to the Sevmorput's entry into their ports to carry out repairs in a shipyard.
Within two days, at the top of winter storms in the North Atlantic, the Sevmorput will be in the Exclusive Economic Zones of Portugal and then Spain. She will then cross the Bay of Biscay, pass in front of Ushant, enter the English Channel traffic separation scheme and pass the Hague peninsula. She should cross the Strait of Dover on 22 December. Her arrival is scheduled for 28 December 2020 in St. Petersburg.
Portugal, Spain, France, the United Kingdom, Belgium, the Netherlands, Germany, Denmark, Sweden, Poland, Lithuania, Latvia, Estonia and Finland, i.e. 14 European Union countries are concerned by the passage of the atomic ship in breakdown.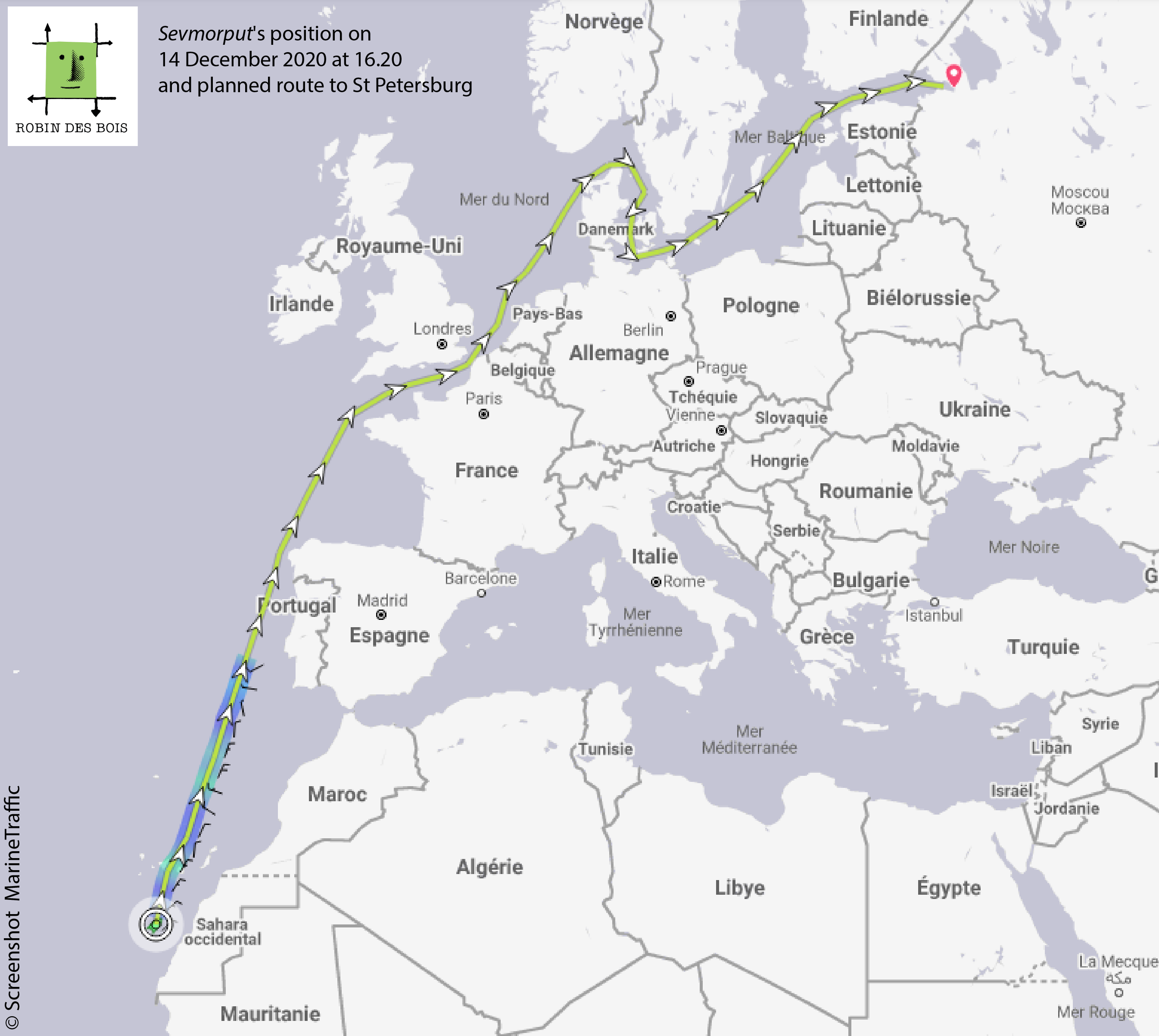 There is no coordinated plan between EU countries to prevent the floating nuclear power plant from drifting and to designate a possible port of refuge. In the event of a collision or grounding caused by her reduced manoeuvrability, the neighbouring countries will be lost in a technical and legal vacuum. The Brussels Convention on the Liability of Operators of Nuclear Ships, signed in 1962, never entered into force because of an insufficient number of ratifications. However, in France the Transport Code has set the maximum liability amount of the owner of a nuclear ship at 76 million euros, a paltry sum in view of the damage that would result from a Sevmorput sea accident.
* Previous press releases on Sevmorput :
An atomic merchant ship is zigzagging towards Antarctica, 10 November 2020
Sevmorput in breakdown off the coast of Africa, 19 November 2020 – 15h30 – press release n°2
Last minute. Sevmorput in breakdown off the coast of Africa, 25 November 2020 – press release n°3

Imprimer cet article